Date: 08 Nov 2023
Category: City regeneration and development
---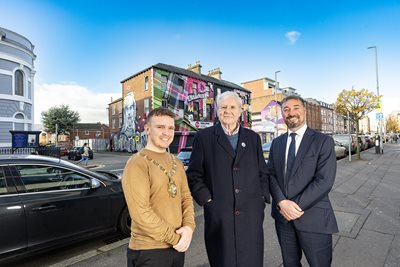 Southern Great Victoria Street's dramatic transformation is continuing apace with the installation of six new murals, including one paying homage to Good Vibrations founder Terri Hooley.
The vibrant artworks are part of a £0.5m 'Great Expectations' regeneration initiative to restore the historic Great Victoria Street, managed by LQ BID with grant funding from Belfast City Council.
The plans will enhance the streetscape by introducing colourful artwork and urban ecology. They will also support the area's business and residential communities by improving its vibrancy and encouraging both increased footfall and long-term private sector investment.
Funded by Belfast City Council's Business Cluster and Community Grant and delivered in partnership with LQ BID's Vibrant District Fund, the murals have been installed by creative consultancy Daisy Chain Inc, including street artists Zippy, Not Pop, Alana McDowell, Rob Hilken and Peaball.
Each mural serves as a nod to the area's rich heritage and cultural significance, including a homage to Belfast's 'Godfather of Punk' Terri Hooley at his original Good Vibrations record shop. Spanning four shopfronts, the vibrant and collaborative mural represents the counter-cultural spirit of punk across Belfast, with music and arts providing a space for people to cross traditional divides.
Lord Mayor of Belfast, Councillor Ryan Murphy said: "We're proud that Belfast is the first UNESCO City of Music on the island of Ireland, signalling not only our great diversity of musical talent, and the calibre of our entertainment venues, but also how much we value the power of creativity. Paying homage to, and remembering the stories of cultural leaders like Terri Hooley, who have played such an essential role in our city's musical story, is important in building our reputation as an arts and culture destination.
"I'd like to thank LQ BID, Daisy Chain Inc, and the artists for creating this work in such an engaging way that will connect people to our heritage, whilst also enhancing Great Victoria Street's appearance for the future – a key part of our Bolder Ambition for Belfast."
Commenting on the piece, Terri Hooley said: "Good Vibrations was more than a record shop and music label. It was an oasis amid the confusion and chaos at the time. It brought people from different communities together to share in a single passion, and for many represented a sense of hope for the future.
"The artists have done an incredible job bringing this story to life, and in reflecting the character and spirit of Great Victoria Street from those years. Although it's been a shame to witness the area's decline, I'm glad to see there's newfound effort to restore it once again, so that in time more people will have the opportunity to enjoy it like it was enjoyed before."
Rajesh Rana, Director of Andras Hotels and owner of Great Victoria Street's Hampton by Hilton and Holiday Inn played a pivotal role in securing funding for the area via Belfast City Council's Business Cluster and Community Grant. He added, "It's great to see positive change starting to take shape at Great Victoria Street through collaborative efforts with local businesses, Belfast City Council and LQ BID. The area's decline has been well-documented and with significant transformation happening across the city, it's important that our street keeps pace. I'm hopeful the new murals reflect the positive transformation to come."
A mural installed by artist Annatomix on the gable of Hope Fellowship Church reflects the city's diversity, with various migratory birds symbolising the church's multicultural congregation, including the local African community. Migratory birds which feed in floodplains, serve as a nod to the area once covered by the Blackstaff River.
Adam Turkington, Director of Daisy Chain Inc said, "30 years ago when I first walked into Terri's shop on Great Victoria Street, it didn't feel particularly special, it just felt like a record shop that was less fancy than Golden Discs. But over the years as I got to know Terri and learned more of the scene of which he was such a vital part, I realised Good Vibrations was much more than just a shop.
"We're grateful that Belfast City Council and LQ BID saw the opportunity to do something more ambitious than was originally planned on this site and with their investment, and the connection our artists clearly felt to the punk spirit of Belfast, we've managed to create a knock out collection of artworks that celebrate this amazing subculture."
Areas surrounding Great Victoria Street will benefit from an estimated £1 billion investment over the next decade, with significant transformation already underway at Grand Central Station and Weavers Cross.
Chris McCracken, Managing Director of LQ BID, said the Great Expectations project team is pushing an open door to growth and prosperity, and the murals emphasise the importance of fostering unity and celebrating diversity in the community during this important period of change.
Chris explains: "Our murals are not just a physical endeavour, they represent the untapped opportunity in Southern Great Victoria Street, with research showing that enhanced streetscapes are a direct catalyst for capital investment. These murals represent only part of our ambition for the area and we invite the community to share their thoughts on how we can continue to develop the Linen Quarter into one of the city's most vibrant areas to live, work and socialise. The 'Great Expectations' initiative is all about generating confidence and accelerating investment so that businesses and residents alike can benefit."
Rough Guides, renowned travel book publisher with a 41-year history, featured the Linen Quarter for the first time in its recent '100 best places in Ireland' guide. It was the only collective hospitality district in Belfast to be recognised, signalling its growing significance.
For more information, visit linenquarter.org and belfastcity.gov.uk/regeneration. To find out more about Belfast's investment proposition, go to www.investinbelfast.com