This page is more than a year old and may not contain the most up-to-date information.
Date: 09 Oct 2020
---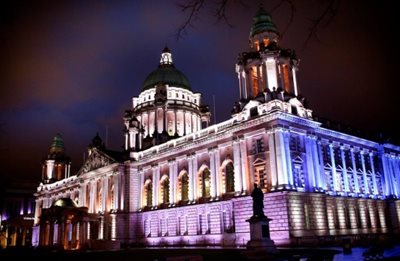 An online Book of Remembrance has been opened by Council to support Baby Loss Awareness Week, which runs from today (9 October) to Thursday 15 October.
City Hall will also light up in pink and blue next Thursday to raise awareness of the week and campaign.
Lord Mayor, Alderman Frank McCoubrey, said: "Losing a baby is such a traumatic event in the lives of parents and their families. It is important that we bring awareness to this sensitive issue so that we can help those who have been bereaved and try to make it easier for them to share their experiences and seek support. Baby Loss Awareness Week is a national campaign which provides an opportunity for those affected by such a devastating loss, to unite with others to support one another and commemorate the lives of their little ones.
"The proposal to open the online book of remembrance was raised by Councillor Michelle Kelly, and I am pleased that as a Council we are helping to raise awareness. The book will be open during Baby Loss Awareness Week to give people an opportunity to share their heartfelt, poignant messages of remembrance for their loved ones."
The virtual book of remembrance is available to sign from today to Thursday 15 October on the council website.