Date: 31 Jan 2019
---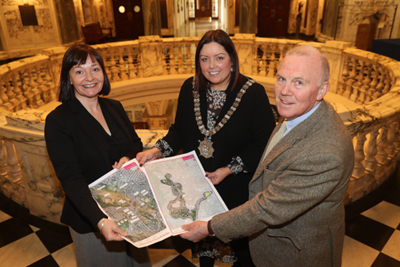 Community and public body representatives came together in City Hall today to hear about Belfast City Council's plans to create and animate a network of shared spaces stretching from Glencairn to Bog Meadows in the west of the city.
The £4 million investment, known as Connecting Open Spaces, is part of the Council's £8.79 million PEACE IV Local Action Plan, which is financed through the European Union and managed by the Special EU Programmes Body (SEUPB). Match-funding has been provided by the Executive Office in Northern Ireland and the Department for Rural and Community Development in Ireland.
The Connecting Open Spaces project will create 12km of safe, welcoming, good quality and connected path and cycle ways, linking a number of identified open spaces in traditionally segregated communities. Plans include the redevelopment of Springfield Dam and Park. Here, with funding also provided by Department for Communities, the dam and park will be reconnected to create a new signature civic space with improved access, recreational facilities and environmental enhancements.
Welcoming attendees to the event, Lord Mayor of Belfast, Councillor Deirdre Hargey, said: "A key ambition of the Belfast Agenda, the city's first community plan, is to address the issues of division and segregation that directly impact on individual life opportunities and the ability of organisations to deliver effective public services in the city.
"One way council is working to realise this ambition is through our capital investment programme. Flagship projects including Girdwood Community Hub in north Belfast and the Innovation Factory on Springfield Road demonstrate how shared provision can successfully promote interaction between communities.

"This success is something that we aim to replicate through the Connecting Open Spaces project. By continuing to lead this investment and involving local people, we hope to continue to create facilities that will be used by all communities and that bring social, economic and environmental regeneration to local neighbourhoods."
Attendees at today's event were given the opportunity to view the plans for the proposed pathway route and to discuss the opportunities they present for shared usage across all communities.

Speaking at the event, Councillor John Kyle, Chair of Belfast City Council's Shared City Partnership, said: "Within our draft Good Relations strategy, which is currently out for public consultation, we outline our ambitions to create shared and connected spaces throughout the city.

"We want to create spaces for communities to interact and make connections with each other, where they can move from parallel living to meaningful relationships and casual interactions.
"Our proposals to create and animate this network of shared spaces from Glencairn to Bog Meadows is a significant step towards realising these ambitions."
Further engagement around both the capital investment and programming for the overall scheme will take place as the project evolves. A public consultation around plans for Springfield Dam and Park was held in 2018 and work is due to start on site here this year. Work is planned to start on the Connecting Open Spaces element of the project in 2020 and complete in 2021.
Plans for the proposed Connecting Open Spaces pathways can be found on the PEACE IV pages of the council's website at www.belfastcity.gov.uk/investment