Date: 23 Aug 2018
---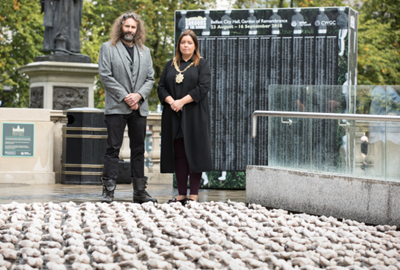 An art installation commemorating soldiers from the Ulster and Irish Regiments, or from Belfast, who died at the Battle of the Somme and have no known grave, is now open at the Garden of Remembrance in Belfast's City Hall.
The 3,775 figures, 12 inches long, have been individually shaped, shrouded and made to a name on the Thiepval Memorial before being placed in the Garden of Remembrance by the artist, Rob Heard. He joined the Lord Mayor, Councillor Deirdre Hargey, in officially opening the evocative installation today.
It is part of a UK wide commemorative project remembering Commonwealth Servicemen killed at the Somme and will be in place at Belfast City Hall's Garden of Remembrance until Sunday, 16 September.
At the opening Councillor Hargey, said: "This is an astonishing and moving art installation and as we mark the centenary year of the end of World War One a timely reminder of the cost of war.
"Rob, who handstitched each of the shrouded figures on display is to be congratulated for his dedication and vision to help people realise the unimaginable numbers who died during the Battle of the Somme.
"This exhibition is part of the Council's work in marking the Decade of Centenaries, where we remember those significant events from a hundred years ago that shaped our island and the relationships that developed following those momentous events between 1912 and 1922.
"We will be marking the end of WWI later on this year and thereafter delivering a range of programmes marking the hundredth anniversary of the events that led to the setting up of two parliaments on the island and its partition in 1921," added the Lord Mayor.
Thousands of visitors are expected to view the installation in the Garden of Remembrance. It is available to view until Sunday 16 September between the hours of 7am-9pm.
Artist Rob Heard, said: "It is difficult for many people today to imagine the horrors that these soldiers went through as they lived and died in the Battle of the Somme. The damp, muddy trenches, the never-ending blasts of battle, the eternal threat of gas attacks, and terror as comrades fell and the bloody fields through which they crawled.
"I hope the installation will bring to mind the human costs of war – each of the people remembered here are marked only in stone. Thousands upon thousands of men perished together and are buried in unknown graves – now we can remember each of them individually and pay tribute to their sacrifice," he said.