Date: 13 May 2019
---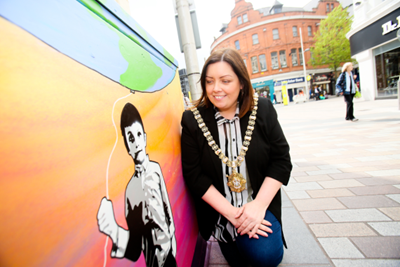 Utility boxes in Belfast city centre are to be given a makeover thanks to a project being piloted by the Council and Destination CQ and Belfast One Business Improvement Districts.
Members of Belfast City Council have given the go-ahead for the 'Belfast Canvas' public art project which will see professional street artists collaborating with community groups and university students to decorate privately owned utility boxes in the city's main retail heart - including cabinets owned by Virgin Media and the Department for Communities.
The partnership project has been borne out of Council's draft cultural strategy, currently out for consultation www.belfastcity.gov.uk/culturalstrategy
Lord Mayor of Belfast Councillor Deirdre Hargey said: "As we look at ways of telling the Belfast Story through the public consultation phase of our cultural strategy, we hope this project will spark creativity and get the general public engaged.
"Over the past number of months, and since the fire at Bank Buildings, we have been working with our city partners to reimagine how our city centre spaces are used; how they look and feel.
"We have been buoyed throughout by our arts and cultural sector who have helped to breathe life into the city centre with a range of activities including music, dance, street art, and theatre. This collaboration of organisations from the public, private, and creative sectors is a fantastic example of city partners coming together to energise Belfast together.
"This project aims to build on that momentum of doing things differently; to celebrate our street art culture, improve the look and feel of the city centre and give citizens a sense of ownership, while supporting up and coming artists at the same time."
As part of the pilot project, artists will also be offering professional development sessions for students, with students also having the opportunity of creating their own utility box designs.
Councillor Hargey added: "The theme around our public consultation is 'A City Imagining' and this project is a great example of how we can make small changes that have a big impact. We want to celebrate everything that Belfast has to offer, and everything that is unique to our city, so we're excited for the project to get underway, and are looking forward to seeing what designs the artists come up with."
Work on the project is now underway and will continue throughout the summer.
To find out more about Council's cultural strategy, visit www.belfastcity.gov.uk/culturalstrategy