Date: 04 Aug 2019
---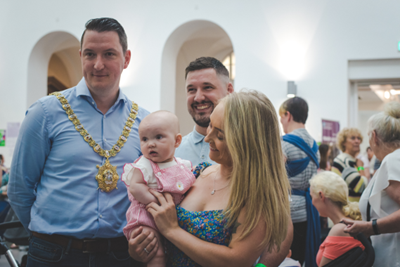 The multi-award Breastival Belfast returned for its third year on Saturday 3 August at the Ulster Museum, hosted by the Lord Mayor.
Breastival is a fun-filled family celebration that offers support, learning and a chance to meet and connect with other families.
The day was packed with workshops, talks and activities for experienced parents, expectant parents, new families, grandparents and supporters, with something for everyone to enjoy.
Lord Mayor of Belfast, Councillor John Finucane hosted the Global Latch at Breastival.
Speaking about the event Councillor John Finucane said: "I'm honoured to be officially hosting the Big Latch On in Belfast as part of Breastival and World Breastfeeding Week – not just in my role as first citizen, but as a father myself.
"It's vitally important that breastfeeding mums know that they are supported and welcome, and I'm proud that Council is part of the Public Health Agency's breastfeeding welcome scheme to create comfortable, supportive environments for mums and families across all Council buildings.
"The north has the lowest rates of breastfeeding when compared to other regions which is why events like Breastival are so important. Fathers and other family members play an important role in breastfeeding - their support and caring allows new mothers and babies to establish and continue breastfeeding which has important health benefits for both mum and baby."
Northern Ireland has the lowest breastfeeding rates in the world, and breastfeeding successes and failures can be difficult to talk about.
Breastival aims to support anyone who wants to learn more about breastfeeding, its benefits and the policies which surround it and welcomes all supporters of breastfeeding.
Breastival aims to normalise what has sometimes been a controversial subject in Northern Ireland.
Despite the NHS and World Health Organisation recommendation that children be breastfed until the age of two and beyond, only 7% of children in Northern Ireland are breastfed past six months. More and more women are choosing to breastfeed but many of them will stop before they want to.
Breastival Belfast hosted Northern Ireland's largest gathering of breastfeeding mothers to celebrate World Breastfeeding Week, which runs from 1-7 August, setting a new record this year with 236 mums providing milk, 237 children receiving milk and 611 people attending this year's 'latch on'.
These records were set as part of the "Global Big Latch On", which saw local 'latch ons' take place in many countries across the world.
This year's packed agenda included a talk given by Dr. Natalie Shenker and Dr. Simon Cameron of Queen's University Belfast, who featured in Channel 4's 'Dispatches' programme in 2018. This programme, hosted by Kate Quiltion, helped highlight many of the barriers women in the UK face in breastfeeding their babies.
For the third year in a row, Breastival welcomed Consultant Breast Surgeon at Belfast Health and Social Care Trust, Ciara McGoldrick, who offered attendees her sound, practical and evidence-based advice on maintaining breast health during pregnancy, breastfeeding and beyond.
Co-founder of Breastival, Jennifer Hanratty, said: "In just three years Breastival has grown from a small idea to a huge celebration of world breastfeeding week. We never imagined that Breastival would be so successful. It demonstrates how much appetite there is for families to have a place where they can find support and feel proud of the time and effort they put in to breastfeeding.
"It's particularly important to provide supportive environments in a culture like ours that often doesn't value that effort and the wonderful gift that breastfeeding is for both mum and baby's health. This year we were honoured to win UK MaMa Breastfeeding champions 2019 for our work supporting families here who want to breastfeed. The win gave us a real boost to continue to find time between jobs and kids to make Breastival as fun and informative as possible."