Date: 13 Sep 2019
---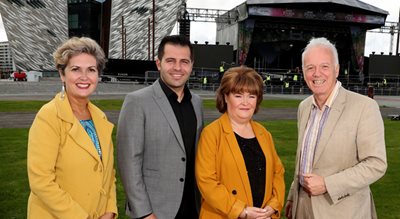 Thousands of people are expected to enjoy a magical evening of music at the Titanic Slipways in Belfast, tomorrow night (Saturday 14 September) at this year's BBC Proms in the Park in Northern Ireland, supported by Belfast City Council.
BBC Proms in the Park in Northern Ireland is in its 18th year and tomorrow night's sold out event will take place in front of an audience of around 10,000.
The concert is BBC Northern Ireland's biggest outside broadcast event of the year and sees both home-grown and international talent performing alongside the Ulster Orchestra under the baton of David Brophy.
BBC Proms in the Park in Northern Ireland is hosted by BBC Northern Ireland's Noel Thompson and Marie-Louise Muir.
Performing this year will be Susan Boyle, accompanied by the Ulster Orchestra, under the baton of David Brophy; as well as renowned Australian Tenor, Mark Vincent; pianist Elizabeth Brauss, one of BBC Radio 3's New Generation Artists; acclaimed violinist Ziyu He; local musician Tom Myles, and the New Irish Chamber Choir, who complete the line-up.
BBC Proms in the Park Northern Ireland will be part of broadcast celebrations to mark the Last Night Of The Proms, and will link music-making festivities at London's Royal Albert Hall with BBC events around the UK. The BBC Proms is the largest classical music festival in the world, with more than 80 concerts which have been running across the past eight weeks from July 19 - September 14.
Viewers at home will be able to join in the excitement, with the BBC network television services linking with the Titanic Slipways, offering coverage of key moments from the evening's entertainment. Highlights programmes will be recorded for later transmission on BBC NI television, BBC Four and the BBC iPlayer. The entire concert will be broadcast live throughout the evening from 7.30 on BBC Radio Ulster, with a visual stream on bbc.co.uk/nilive, for audiences at home and around the world.
BBC One Northern Ireland and BBC Four network will broadcast a television highlights programme on Sunday 22 September at 5.35pm and 7pm respectively.
For those travelling to the event using public transport, train and bus services will operate as normal.
For those driving to the concert there will be clear car parking signage within the Titanic Quarter and on approach roads and Queens Road.
Car parking will be available in the Titanic Quarter car parks with a parking fee of £5, and exits from these car parks will be restricted after the event until the Queens Road is clear of pedestrians. Free parking with be available for Blue Badge holders at a surface car park which will be signposted.
Concert goers are also reminded to dress appropriately for the weather, bring their own seat and all their tickets as they won't be admitted without them.
Glass items are not permitted on site. And all drinks must be carried in non-glass containers.
Look and listen out for updated information about BBC Proms in the Park (including the weather forecast) across BBC Northern Ireland's different services.
For more information about this year's BBC Proms in the Park in Northern Ireland go to: www.bbc.co.uk/promsinthepark