Date: 06 Mar 2020
---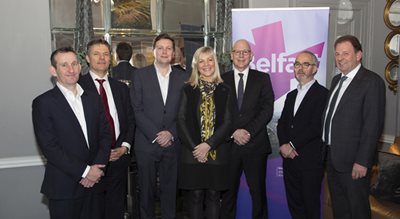 Private and public sector leaders in Belfast and Dublin met last night (Tuesday, 5 March) at an industry event organised by Belfast City Council at Glandore, 25 Fitzwilliam Place, Dublin to explore FinTech opportunities in this high growth sector.
It followed a successful event Belfast: London event, organised by Belfast City Council in partnership with the City of London, promoting Belfast as one of the UK's leading Financial Services Centres and FinTech Hubs.
The invitation only seminar was hosted by Michael Kelly, Managing Director of Glandore* and Councillor Dónal Lyons, Chair of Belfast City Council's City Growth and Regeneration Committee.
Entitled "The future of Fintech in the Funds Industry", the seminar considered ways of strengthening financial services between both cities.
Councillor Lyons said: "We aim to build on our two city's mutual success in the FinTech industry, as well as strengthening links along the economic corridor between Belfast and Dublin. The success of Dublin's Financial Services sector is well known, as is Belfast's growing reputation as a leading Financial Services Centre and FinTech Hub.
"Both cities have enjoyed a co-operative and mutually advantageous relationship and this event is part of that. One of the aims of The Belfast Agenda, the long term community plan for the city, is to build on existing relationships to encourage inward investment. Our ultimate goals are boosting inclusive economic growth, creating new and better jobs and developing our expertise in digital, new technology and service jobs."
Belfast City Council's Chief Executive, Suzanne Wylie, who also attended the seminar said that Belfast's growing roll call of inward investors, including Chicago Mercantile Exchange, Options IT and Lightyear and the success of growing home grown companies including Datactics, First Derivatives, and Funds Axis was proof of how attractive the city is to investors.
"The arrival of the Catalyst Belfast FinTech Hub, our first FinTech co-working space is testament to Belfast's vibrant start up scene. We offer the perfect blend of financial skills and tech innovation, as well as a highly educated, motivated talent pool and we're looking forward to further discussions with our Dublin counterparts, and the Dublin Funds community," said Ms Wylie.
Guest speakers included Belfast FinTech entrepreneur Stuart Harvey, Chief Executive, Datactics, Andrew O'Callaghan, Partner, Asset and Wealth Management Leader EMEA; and Paul Nunan, Managing Director, Link Asset Services.