This page is more than a year old and may not contain the most up-to-date information.
Date: 16 Mar 2021
---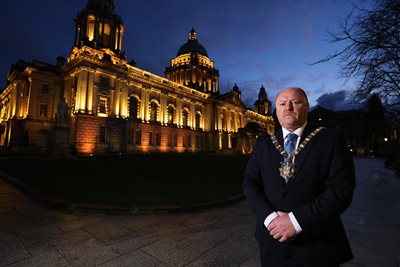 The Lord Mayor of Belfast is backing Marie Curie's National Day of Reflection on Tuesday 23 March, marking a year since the first lockdown.
City Hall will join other iconic buildings and landmarks across the UK when it is lit up in yellow next Tuesday evening.
Lord Mayor Alderman Frank McCoubrey said it was important for people to pause and reflect; to give space to families and communities to acknowledge the loss of loved ones, and the impact the ongoing pandemic has had on our daily lives.
"The aim of the campaign is to bring people together to reflect on our collective loss, support those who have been bereaved, and share our hopes for brighter days ahead," said Alderman McCoubrey.
"It has been an exceptionally difficult year for our city, for those who have lost loved ones, or been separated from their family; for those who have lost jobs – it has been a period of immense difficulty and challenges for us all.
"When I took up office last June, I spoke of the amazing community spirit in action across Belfast; and throughout my time as Lord Mayor I have continued to witness first-hand how people are helping their neighbours and supporting one another."

Alderman McCoubrey added: "While the pandemic is not yet over, we can be hopeful that there is a ray of light on the horizon as we look ahead to restrictions beginning to ease, and life slowly feeling a little bit more normal again.
"As we pause for reflection, I would also like to pay special tribute to all those who have worked tirelessly on the frontline throughout this crisis - in Council, in our health and emergency services, in care homes, and our essential services and business community; and of course the many volunteers who have given of their time to help others. Many individuals and groups have made such a difference throughout our city, looking after the most vulnerable day after day. They are what makes this city what it is, and we should be eternally grateful to those who have stepped up.
"We have come a long way in this unpredictable journey and we must continue to focus on supporting each other and staying safe."
You can find a full list of City Hall illuminates on our illuminates web page.