Date: 29 Jun 2023
---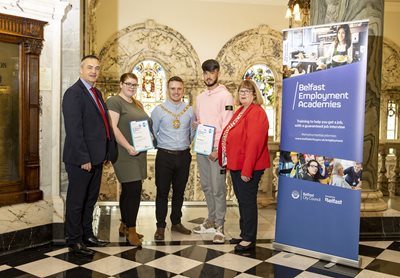 More than 50 Belfast residents' achievements were celebrated today, after completing Employment Academies in the varied sectors of Construction, Fibre, Hospitality and Leisure, Transport and Working at Sea.
Provided by Belfast City Council, and part funded by the Department for Communities through the Belfast Labour Market Partnership, these free academies provide intensive training and qualifications, aligned to employer recruitment needs.
Over the last year, 297 participants completed training and qualifications, and to date, 97 have secured employment. A further 153 people are currently completing training and already have job interviews lined up.
Speaking at today's celebrations, Belfast Lord Mayor Councillor Ryan Murphy said: "We're really pleased with the positive impacts our range of Employment Academies are delivering. The courses are tailored to local employer needs, so people signing up know they'll not only receive relevant, practical, and transferable skills, they'll be guaranteed an interview and have support from us in preparing for it. We also make sure that participants have six months aftercare support to ensure they're moving into long term, sustained and well-paid roles.
"I'd like to congratulate all our Employment Academy participants on their achievements, and on the dedication and enthusiasm they've shown. We made a commitment in the Belfast Agenda to help residents reach their full potential and to empower those furthest removed from the labour market to progress into employment. We also want to support business growth and help Belfast employers with current recruitment challenges.
"Our Employment Academies are helping us to achieve those objectives – and they're only going to become more important as we see more high value employment opportunities created by new investment in our city, including the Belfast Region City Deal. We need to connect people living here to those opportunities and provide the high-quality talent pipeline that investors and local businesses expect."
Two Belfast residents celebrated today for their achievements were Christine Norrie and Conal Corbett.
Conal Corbett wasn't daunted by his lack of experience in the construction industry when he started out in his career. He was so keen to secure a joinery apprenticeship, he travelled the length and breadth of the country before securing one through sheer determination and hard work. Over a period of 18 months, he gained the skills, knowledge, and experience to complete his Level 2 joinery qualification.
Conal then progressed to completing a Level 3 Joinery qualification through Belfast City Council's Construction Employment Academy and secured full-time employment with the McAvoy Group in Lisburn, all while helping to support his young family.
Conal said: "Completing Belfast City Council's Construction Employment Academy helped me out big time. I've faced many barriers in life, but this has helped to relieve the pressure by helping me out when I needed it most."
Christine Norrie completed the Transport Employment Academy after deciding it was a time for a career change.
She said: "I was a youth worker but wanted a career change. The training that was provided by the Transport Employment Academy was first class and the trainers were brilliant. The support I received after my training has been ongoing and I have a number of job opportunities lined up. I would definitely recommend the employment academies to anyone!"
Belfast City Council, in collaboration with Learning and Work Institute's New Futures programme, has also recently recruited 24 people to complete two Technology Employment Academies in Product Management and Cybersecurity. These four-month academies offer an alternative pathway into employment in a high growth sector where there is increasingly high demand for talent. In 2022, 70 per cent of Tech Employment Academy participants moved into immediate employment, with all participants remaining in role six months later.
For more information, and to register for a Belfast Employment Academy, go to www.belfastcity.gov.uk/employmentacademies