Date: 18 Sep 2019
---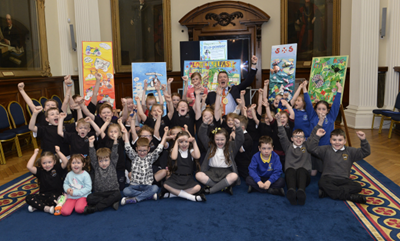 A group of children from across Belfast were invited to City Hall today (Wednesday) to see their artwork go on display in the Lord Mayor's Parlour.
A group of children from across Belfast were invited to City Hall today (Wednesday) to see their artwork go on display in the Lord Mayor's Parlour.
Earlier this year, Lord Mayor Councillor John Finucane challenged young people attending Belfast City Council summer schemes to design a poster to promote the importance of eco-awareness and the environmental issues facing the city.
Councillor Finucane said: "Environmental issues are becoming increasingly important for us all as we become more aware of the impact on our city and communities.
"As a Council, climate change is firmly on our agenda and we're placing a clear emphasis on how Belfast can ensure its resilience to our changing climate with the recent establishment of an all-party working group on the climate crisis we're currently facing.
"It has been really interesting for me to engage with some of our younger citizens on this issue, and to hear their views and ideas."
He added: "It's not everyone who can say they have their art displayed in the grand surroundings of City Hall, but I'm delighted to be able to give some of our city's young people the opportunity to make that claim. I've been so impressed by the ideas and talent of these young artists and their posters will be a fantastic talking point for visitors to the Parlour over the course of the next year."
Children who attended Blackie River, Olympia, Glen Community Centre, North Queen Street and Loop River summer schemes were invited to a reception in City Hall this afternoon to present their artwork to the Lord Mayor.
Lisa McCormick, from Blackie River Centre, said: "It was a great group activity for all the kids to be involved in and got them interacting with each other; they really enjoyed it. I think we were all a bit surprised by how much they knew already about these sorts of issues."
Anna Albrzykowska, a play worker with Belfast City Council who helped to facilitate the project, said the children had a lot of fun.
"We started off by introducing them to some of the issues we wanted to get them thinking about, like making Belfast greener and more sustainable," said Anna.
"There was a big emphasis on rubbish and the importance of getting people to stop littering. They had some really brilliant ideas and the artwork they came up with is very impressive."
Local artist Anna O'Kane worked with the young artists to help bring their visions to life.
Today's event comes ahead of Friday's Climate Strikes. Members of Belfast City Council have given their support to the global call made by young people, workers and environmental organisations for people to come out and demonstrate over their concerns around climate change.
The Lord Mayor will also host a 'listening breakfast' at City Hall this Friday where climate strike representatives along with students' unions and charity representatives will take part in a roundtable discussion on the threat of climate change and what it means for our future.