This page is more than a year old and may not contain the most up-to-date information.
Date: 30 Mar 2021
---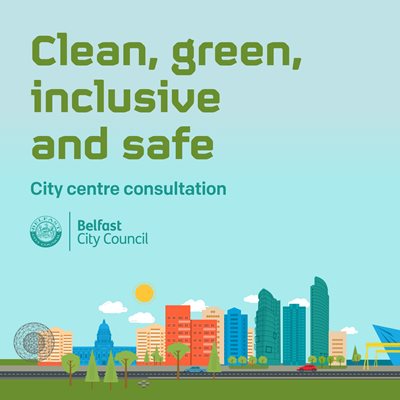 Today we launched a new four week consultation, which will help to identify shared priorities and facilitate the development of a strategy and action plan focusing on ensuring the city centre is more connected, sustainable, resilient and people-focused.
The "Clean, Green, Inclusive and Safe City Centre" consultation is now live and is seeking input from everyone with an interest in enhancing the city centre – including all Belfast residents; businesses; community and voluntary sector organisations, visitors, and city stakeholders.
The four main areas of the consultation will look at how we can create:
A physically environmentally clean city centre.
An environmentally sustainable, carbon neutral city centre with green spaces.
A welcoming, open, accessible and shared city centre.
And a safe city centre with low instances of crime and antisocial behaviour.
The consultation aligns with the ambitious goals of many of the council's key strategic documents, including the Belfast Agenda, A Bolder Vision for Belfast document, the Belfast City Centre Regeneration and Investment Strategy (BCCRIS) and Good Relations Strategy.
Chair of the council's People and Communities Committee, Councillor Daniel Baker is looking forward to engaging with the public and hearing their ideas for how we can transform our city centre for the better.
He said: "The Clean, Green, Inclusive and Safe city centre consultation offers a fantastic opportunity for residents to develop the Belfast of the future.
"It's important that we work together to create a city centre that can be enjoyed by all. One which is safe, welcoming, inclusive and is able to respond and adapt to the changing world. We need to create an economically sustainable city, a climate resilient city, a culturally diverse city and a city that we can all be proud of."
He added; "I would encourage everyone to get involved in the consultation, and give their views, concerns and priorities which will help us shape our city centre."
Results of the consultation will be compiled to progress a strategy and action plan which will guide key city stakeholders in how to deliver and facilitate a reimagined city centre which can meet the needs of everybody.
To complete the consultation visit https://www.belfastcity.gov.uk/CGIS
Queries and requests for additional information can be emailed to CGIS@belfastcity.gov.uk