Date: 10 Mar 2020
Category: Supporting communities
---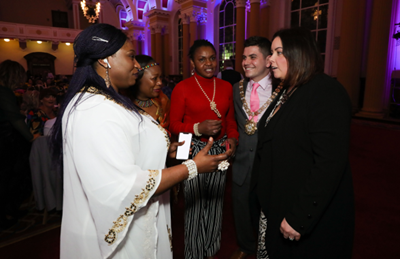 Lord Mayor of Belfast Councillor Daniel Baker has heaped praise on local community organisations and volunteers for the work they do in helping to build a resilient city.
Speaking at a 'Celebrating Community' event at City Hall on Saturday (7 March), attended by community representatives from across the city, Belfast's first citizen give recognition to the positive impact they have on the lives of local residents on a daily basis.
Councillor Baker said: "Right across Belfast, community organisations and their volunteers carry out amazing work - and quite often the work they do can be challenging. I wanted to bring people together tonight to let them know how much they are appreciated and to remind them of the vital role they are having in providing a strong support network for communities.
"We want Belfast to be a resilient city, one that can deal with the stresses and strains of everyday life, and one that is future-proofed for the challenges to come.
"For me, community organisations and their volunteers are already ahead of the curve when it comes to preparing people for challenging times. They engage people in activities, bringing communities together through shared interests, helping get people active, promoting positive mental health and well-being, and building relationships with their neighbours.
"This work is vital in building a Belfast for all, one where every citizen feels valued and encouraging a sense of belonging. It's my pleasure to meet so many fantastic people this evening to celebrate and recognise their efforts."
Department for Communities Minister and former Lord Mayor of Belfast Deirdre Hargey was also in attendance.
Minister Hargey said: "Tonight is all about acknowledging and celebrating the tremendous efforts of local people and groups that give something back to their communities, making the area in which they live a better place for all.
"As Minister for Communities I am committed to working at every level of community life; enabling, where I can, people who play such an important role in helping people realise their potential and improve their quality of life."
The Lord Mayor also expressed his desire to follow on the good work going on in communities across the city by taking forward the 'Take 5' steps to wellbeing programme. His focus for the remainder of his term in office will be to encourage people to look after their own mental and physical health by connecting, learning, being active, taking notice and giving back.
To find out more about the 'Take 5' steps to wellbeing programme visit our website at www.belfastcity.gov.uk/community/Healthandwellbeing