Date: 09 Oct 2019
Category: Supporting businesses
---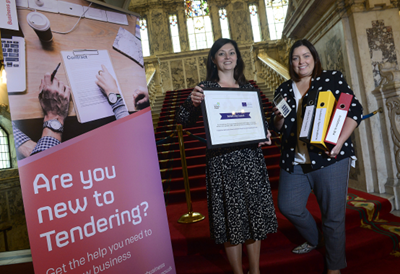 Belfast City Council is to hold a free one-day Introduction to Tendering Workshop to help small Belfast based businesses and social enterprises learn how to win contracts on Wednesday, 23 October 2019 at the Park Avenue Hotel, 9am to 3pm. 
The workshop content is tailored to firms new to the tendering process, or seeking to improve how they tender and will focus on three key areas:
Find – looking for tendering opportunities in the public and private sectors within the UK;
Bid – practical bid management skills; and
Win – how to ensure your bid submission is a winning one.
This project is part funded by Invest Northern Ireland and the European Regional Development Fund under the Investment for Growth and Jobs Northern Ireland (2014-2020) Programme.
Chairperson of Belfast City Council's City Growth and Regeneration Committee, Councillor Deirdre Hargey said: "Our free workshops provide excellent, practical guidance, as well as tried and tested hints and tips to help smaller businesses develop their bids and make them a real success. This is part of a package of free support including mentoring, support on live tenders and skills development. I urge local firms to come along and benefit from our tendering experts."
The interactive session will help businesses to:
Understand UK public and private sector procurement processes;
Understand the different types of procurement procedure - and how to meet the requirements of each;
Identify strengths, weaknesses and selling points;
Make the right Bid / No-Bid decisions (so you bid less and win more);
Understand the challenges of bid pricing – communicating the value of what you do and presenting the price;
Develop an approach that makes the bid process more efficient and effective; and
Consider when collaboration might be the right approach to take in a bid opportunity – to help you 'punch above your weight' when participating in a tender process.
To book a place on this training workshop, register at www.envisionconsulting.eu or email: laurak@envision-ni.co.uk Tel: 028 9045 2777.