This page is more than a year old and may not contain the most up-to-date information.
Date: 10 Dec 2020
---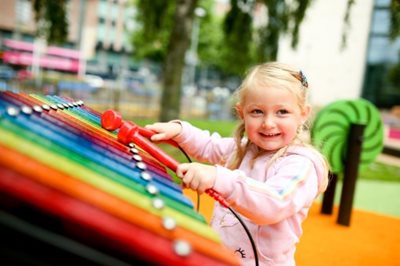 A Belfast City Council project looking at creating more green spaces and making the city centre more child-friendly, has scored top marks at the Landscape Institute Awards.
The Urban Childhoods Belfast City Centre project, delivered through Arup, the global engineering and design consultancy, picked up first place in the awards' Excellence in Place Regeneration category.
Council commissioned Arup to develop the Urban Childhoods Belfast City Centre framework in the aftermath of the Bank Buildings fire in August 2018 when a pop-up park – a pilot project delivered by Belfast City Council and the Department for Communities - highlighted the need for more child-friendly and green spaces in our city centre, and the need to design for urban childhoods.
Belfast Lord Mayor Alderman Frank McCoubrey said: "We're delighted to see this project recognised and receive such a prestigious award. The need to have more outdoor, shared spaces is something that has become even more important as we move forward in our recovery from Covid, and to creating a more connected, resilient city.
"Through this work and A Bolder Vision, we are reimagining our city centre and introducing new uses to diversify the city centre experience. These new spaces will bring a new offer to the city centre and increase its attractiveness as we seek to increase city centre living.
"There is also evidence that urban spaces which support healthy child development also contribute to improved health for all our citizens in terms of cleaner air, improved mobility, inclusion and tackling loneliness – and these are all ambitions within the Belfast Agenda."
Dima Zogheib, Associate, Integrated City Planning, Arup added: "This award win is a testament to Belfast City Council's vision for the city, and a recognition of the emerging demand for a systematic approach for designing child-friendly places that can be replicated and scaled up. Projects like this are vital to creating inclusive cities that work better for everyone - it was privilege to have been involved."
Commenting on the submission, the Landscape Institute said: "The uniqueness and importance of the approach here is what really captured our judges; imagination. Children and young people are important users of city centre space, so the benefits of including them in the design process – clearly outlined in this entry – will, we hope, inspire similar practice across the profession. This is simply an exemplar of what designed, inclusive, regeneration is all about. An excellent and inspirational project and hugely worthy winner."
Designing for urban childhoods is a key focus for building and enhancing Belfast's resilience and connectivity, with children and young people identified as a key priority within Belfast's Resilience Strategy.
In August 2020, and following on from the success of the pop-up park at Castle Place, Council invested £300,000 in creating a landscaped area and family-friendly zone at Cathedral Gardens as part of its ongoing city centre revitalisation work, with £93,000 additional funding provided by the Department for Communities.
It's the first multifunctional space of its kind in the city centre and features new lighting and fun equipment including a giant spinning 'hamster' wheel, outdoor musical instruments, a swinging bridge, and colourful mushrooms on a carpet of rainbow grass.
The park has been created as a meanwhile-use for the space and is expected to be on site for at least two years.