This page is more than a year old and may not contain the most up-to-date information.
Date: 02 Dec 2020
Category: Climate and biodiversity
---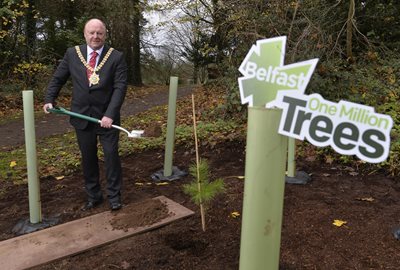 Belfast Lord Mayor Alderman Frank McCoubrey planted the first of One Million Trees today as part of a joint pledge to plant 1,000,000 native trees across the city by 2035.
The planting at Sir Thomas and Lady Dixon Park marks the launch of the partnership project with city stakeholders, planting organisations, businesses, academics and community groups, and coincides with National Tree Week – the UK's largest annual tree celebration.
In 2018, the Belfast Metropolitan Residents Group (BMRG), an umbrella group for community associations from across the greater Belfast area, approached the Council with the proposal that the city seek to plant a million trees in conjunction with its new 2020-35 development plan. The Council took up the idea and is now inviting members of the public to come forward with suggestions for potential planting locations.
Alderman Frank McCoubrey said: "Since we announced a climate emergency last October, we have been proactively taking a lead in the battle against climate change and have an agreed action plan in place.
"Climate change is something that affects us all, and it's vital that organisations across all sectors come together to harness efforts and make an impact for future generations. The One Million Trees campaign is a great practical example of how we can help turn around the effects of climate change, and it's something that everyone can do – individuals and communities across the city can be part of it. I hope that today's launch will inspire them to help us reach our goal of 1,000,000 trees planted over the next 15 years."
The project is one of Council's programmes to support climate adaptation across Belfast and forms a major part of the city's Resilience Strategy which aims to transition Belfast to an inclusive zero emissions, climate-resilient economy within a generation. It will also make a substantial contribution to the Department of Agriculture, Environment and Rural Affairs' Northern Ireland-wide Forest of our Future initiative.
Alderman McCoubrey added: "As well as reducing carbon, trees digest pollution and clean the air, reduce flooding and keep cities cool in summer; supporting wildlife and enhancing biodiversity. Studies also show that being around trees can improve our mental health and wellbeing, and tree planting is also a great way of bringing communities together, so it really is a win-win."
BMRG chairman Peter Carr said: "We are delighted that the proposal has been adopted. We know it's ambitious, and that planting in an urban setting can be challenging, but the potential gains are greater too. This programme has the potential to reinvent 21st century Belfast as a happier, healthier, more beautiful city that works better for its people, and is seen differently and more positively by the rest of the world."
BMRG member and former Northern Ireland Chief Landscape Architect Peter Diehl, described the initiative as the highlight of his career to date, summing it up in his native German in the phrase, "Kleine Bäume, große Träume", meaning "Little trees, big dreams".
The project's key partners include the Woodland Trust, the Conservation Volunteers, Belfast Hills Partnership, National Trust, Northern Ireland Housing Executive, Department for Infrastructure, Department for Communities, Northern Ireland Electricity, Queen's University, Belfast Harbour Commission, the Education Authority, Belfast Health & Social Care Trust, DAERA, Translink, the BMRG, PSNI and Invest NI.
Ian McCurley, director for Woodland Trust Northern Ireland said: "This is a fantastic project for Belfast and we are proud to be involved as part of our fight against climate change. We need to rapidly increase tree cover to help reach net zero carbon emissions and tackle the declines in wildlife. In Northern Ireland, we need to reach a rate of planting 2,000 hectares a year by 2025 in order to achieve our goals by 2030 and this is a great opportunity to get the people of Belfast behind this endeavour."
Belfast City Council is asking the public to get involved and share ideas and suggestions about the project, including potential planting sites. Have your say at https://yoursay.belfastcity.gov.uk/one-million-trees. For more information on One Million Trees, visit www.belfastcity.gov.uk/onemilliontrees