Date: 31 May 2023
---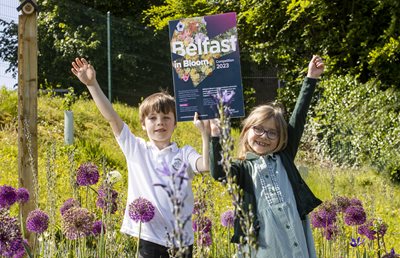 Staff, pupils and parent volunteers from Dundela Infants' School and Nursery Unit helped launch this year's Belfast in Bloom 2023 competition.
The school in east Belfast was among the winners of last year's popular competition picking up an award for Best School Garden.
The school allotment grows flowers as well as fruit and vegetables, among these, strawberries, cucumbers, carrots, potatoes, lettuce, broccoli, kale and tomato plants. It is also home to bug houses and bee-friendly habitats. There is also a wildflower garden at the school.
Classroom Assistant, Kerry Currie, who worked with pupils on the school's eco-committee to design and plant the allotment, alongside parent volunteers, encouraged other schools in the city to enter the competition this year.
She said: "We had a kind of unused space on the school grounds and thought - what was the best way to use it? We felt that gardening, planting and growing was something that our children could gain a lot from, so we put some beds together in the space.
"We started small and then saw the 'Belfast in Bloom' competition and entered it. In our first year, we were lucky enough to become runners-up for Best School Garden.
"Our little space has since grown and got bigger every year. We've planted more and more in the space and were absolutely delighted to win Best School Garden in the competition last year. The children were just so pleased and we had a special assembly for them all. It's just so nice to get them outside, growing and planting – they really enjoy it all. I would definitely recommend other schools entering the competition this year!"
Run by Belfast City Council, Belfast in Bloom celebrates the fine gardening efforts and work of local residents, community groups and businesses across the city.
There are individual awards, community awards and awards for commercial premises/businesses and schools.
Residents can enter for the 'Best Hanging Basket', 'Best Window Box' and 'Best Front Garden'.
Community groups/organisations can enter for 'Best Community Street', 'Best Community Group' and 'Best Community Garden'.
Businesses can enter the commercial category for 'Best Hotel', 'Best Public House', 'Best Restaurant', 'Best Commercial Street' and 'Best Commercial Premises'.
Local schools can enter for 'Best Kept School Garden' in the north, south, east and west of the city.
There are also awards for 'Best Individual Allotment' and 'Best Allotment Site' in Belfast.
The competition is free to enter with the closing date for the school awards' category on Friday 23 June and the closing date for all other categories - Friday 28 July, with judging taking place in August.
Last year's winners included Ben Madigan's Bar and Kitchen in north Belfast, Zuni Hairdressing in University Street, Europa Hotel, Eden Alley and Rainbow Alley.
More information on the competition and entering the different categories is at www.belfastcity.gov.uk/belfastinbloom