Date: 21 Nov 2018
---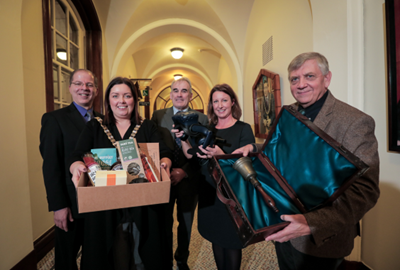 The first ever Friendship Four business showcase event was held in City Hall on Tuesday (20 November) ahead of an action-packed Thanksgiving Weekend on the ice at the SSE Arena.
Belfast City Council in partnership with Food NI and NI Connections, welcomed representatives from the food, business and education sectors across Belfast and Northern Ireland to profile and display their innovative and entrepreneurial ideas to a host of delegates from the four competing US colleges of this year's Friendship Four Ice Hockey tournament.

Speaking at the event, Lord Mayor of Belfast, Councillor Deirdre Hargey said: "The Friendship Four continues to grow and develop year on year. This showcase event shines a spotlight on local creativity, innovation and the quality of product across our education, business and food production sectors.
"Belfast may be viewed as a small city, but we are undoubtedly energetic and ambitious. For a small place, we punch well above our weight and we want to highlight our strong business acumen to our international visitors.
"We are in Europe's top 10 for FDI Strategy in the Small City Category, we are the second most successful city after London at attracting US tradable services FDI projects and when international companies invest, 75% reinvest or plan to extend. Our skills base and educational achievements assist in underpinning these formidable economic statistics.
"I'm delighted to see so many fantastic businesses here today showcasing their produce and telling their own unique story. I have no doubt that relationships will be forged and ideas shared, making the Friendship Four and even bigger success story."
Anne Beggs, Head of Northern Irish Connections said: "Our core objective is to showcase Northern Ireland as a great place to live, work, study, invest and do business to an international audience.

"We are delighted to continue our support for The Friendship Four tournament. We are excited to see the activity programme evolve to include this evening's showcase event - an ideal platform to promote our strengths in agri-food produce, educational excellence, immersive technologies and sport-related innovation to the Friendship Four delegation."

Chief Executive of Food NI, Michele Shirlow said: "Food NI is on a mission to enhance the reputation of food and drink from Northern Ireland. Northern Ireland has been crowned Best Food Destination at the International Travel and Tourism Awards in London.

"We're incredibly passionate and proud of our local offering and we're delighted to be here in City Hall this evening to showcase just some of our local success stories to our international visitors."

The Friendship Four, now in its fourth year, is a working outcome of the existing Sister Cities Relationship that exists between Belfast and Boston. It aims to build linkages across business, education, arts and culture, tourism, trade and investment.
For more information on the Friendship Four Ice Hockey Tournament, please visit our website at www.belfastcity.gov.uk/friendshipfour