Date: 19 Feb 2019
---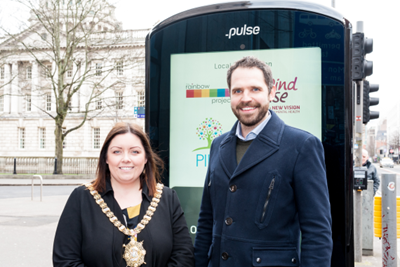 A network of life-saving tech has gone live in Belfast - with a helping hand from the Lord Mayor.
A network of life-saving tech has gone live in Belfast - with a helping hand from the Lord Mayor.
The city is the first place in the UK to benefit from Pulse Smart Hubs.
Lord Mayor, Councillor Deirdre Hargey joined tech entrepreneur Patrick Fisher, founder and CEO of Urban Innovation Company, to officially launch the network of 'smart street furniture' in the city at the Howard Street kiosk.

The £3 million project, funded by Urban Innovation Company, will help people stay connected - and even save lives. Belfast City Council has granted permission for 25 of the smart hubs so far - with planning applications pending to make a network of 30 hubs throughout the city.

Thanks to Pulse Smart Hubs, residents and visitors will benefit from services, including:

* a defibrillator allowing anyone, even without training, to save a life
* sensors that capture crucial data on air quality made available to city stakeholders to be used for clean air initiatives
* a police override function for public messaging on the main screen, in case of an emergency
* public messaging to promote the city, local services, and events in collaboration with Belfast City Centre management and Visit Belfast
* a 999 button that connects directly to the police, fire, and medical services in case of an emergency, or if someone feels intimidated or vulnerable
* a free-to-use touchscreen interface to access local maps, services, facilities, and visitor information provided in collaboration with Visit Belfast
* free public WiFi so people can enjoy connectivity around Belfast City Centre
* free local and national calls, plus mobile phone charging, and scope for mobile data offloading.
The project supports the council's Smart Belfast initiative, which brings together universities, businesses, local government, and citizens to collaborate, innovate, and experiment using cutting-edge technologies and data science.

Welcoming the launch of the project, Lord Mayor, Councillor Deirdre Hargey, said: "As well as the impressive public health and safety features they will offer, the Pulse Smart Hubs will put Belfast on the map as a truly modern 21st century city that focuses on meeting the needs of its citizens and visitors. They are a symbol of the agencies and key stakeholders working together for the benefit of our city.
"This initiative supports our Smart Belfast framework which harnesses innovation, technology and data science to build on the city's growing strengths in the digital sector, and, unveil great products for the future."
Patrick Fisher, CEO of Urban Innovation Company, said: "We have been working closely with local stakeholders to ensure the Pulse Smart Hub network supports Belfast City Council's strategic vision for smart cities and that the benefits to the city and its residents are truly maximised and available, free to all.
"In the age of the Smart City, street furniture must do more than to earn its place on the High Street. At no cost to the public or taxpayer, the Pulse Smart Hub is the smartest of smart furniture. A network of beautifully designed and engineered hubs that provide next generation connectivity, share information, track the environment and ultimately save lives."