Date: 06 Aug 2019
---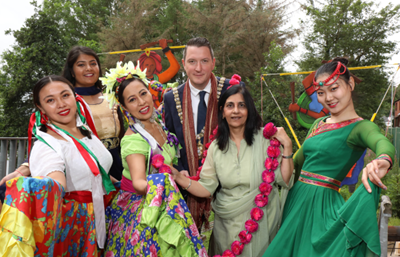 Belfast Lord Mayor Councillor John Finucane helped to launch the 13th Belfast Mela today, 6 August at the Lyric Theatre.
Belfast Lord Mayor Councillor John Finucane helped to launch the 13th Belfast Mela today, 6 August at the Lyric Theatre.
Up to 30,000 people visit the Belfast Mela each August and this year's festival promises to be the biggest ever on Sunday, 25 August in Botanic Gardens from 12 noon to 6pm. The Belfast Mela is a wonderful family day out celebrating Northern Ireland's increasing cultural diversity with music, dance, food and much more from around the world.
Speaking at today's launch, the Lord Mayor of Belfast Councillor John Finucane said: "The award winning Mela, launched by the one of the city's leading cultural groups - ArtsEkta, is now the biggest celebration of cultural diversity on the island of Ireland. Mingling at the Mela (the word actually means "to meet" in Sanskrit) is more than just a fun day out, it is also a tangible and high-profile demonstration of the life-enhancing benefits of diversity. The buoyant vibrancy at Botanic Gardens is a real tribute to Belfast's welcoming spirit and showcases our capital's continuously evolving make up."
Nisha Tandon, OBE, Founder and Executive Director, Arts Ekta says: "The success of Mela is rooted in a desire by all communities across Belfast and beyond to be part of something that represents their own cultural identity. We must continue to move forward together to create a society where everyone is respected and feels a sense of belonging. The Mela represents Belfast as the vibrant, enriched, intercultural and ambitious city it is growing to become.
"In 2019, we present a bold, vibrant and colourful cultural celebration working with hundreds of artists, locally and internationally, to create a wonderful world of music, dance, food, storytelling and arts for all the family to enjoy together."

The opening procession led by the Lord Mayor of Belfast and other special guests will feature commissioned carnival creations, Bollywood dancers, scores of community participants, spectacular processional sculpture, all set to the sound of a lively brass band from Rajasthan.

Highlights of this year's festival include:
Amazing performances from the Kakatsitsi Master Drummers bringing traditional drumming and music from the villages of Ghana as well as DCS, the world's leading Bhangra band and the return of the Dublin African Gospel Choir and Rajasthan Heritage Brass Band amongst many more.
Brand new to this year's Mela, is the World of Words zone, a celebration of voices, storytellers and creativity including storytellers Peter Chand (India), Nandi Jola (Africa), Joel Ben Izzy (Canada) and Liz Weir (Ireland)
Carnival style finale based on the popular Dandiya Raas dance style with professional and community dancers as well as carnival props and performers.
Interactive fairy trail in the new Fairy Forest for young children inspired by fairy folklore from across the world.
Chinatown, set along the beautiful backdrop of the park's Rose Garden, where an installation of traditional lanterns awaits while you can explore the delights of China from traditional arts and crafts, street performances and food sampling by members of the local Chinese community.
Taste The World - From India to China, from Thailand to Poland, from Spain to Mexico, Mela's World Food Market has a little something for everyone. This year there's also a wonderful new Artisan Food Pavilion featuring home grown food with a global twist.
Or try Mela's cookery theatre with demonstrations from East Mediterranean restaurant BUBA and a Kimchi demonstration from The Cultured Club as well as the eye watering chilli eating competition Feast of Fire.
World of Wellbeing – take time out to enjoy the calmness of Tonic Wellness' workshops and sessions on yoga, meditation, tai chi and complimentary therapies including reflexology and kinesiology.
Tea lovers can check out the The Mela Tea Emporium. Have a go at tea leaf reading, blend and taste your own tea from around the world, get crafty over some tea and cake, show off your moves in a traditional tea dance and take home of the finest local tea.
For children there is Culture Land, a magical children's arts experience with dance, stories and art and new for 2019 the Sensata STEM Creative Zone along with old favourite Little Bollywood.
Plus Secrets of the Ravine, the Ethnic Bazaar, Craft Village, Rhythms of the World workshops and much much more.
For full details of this year's Festival go to www.belfastmela.org.uk Tickets are £7 for adults; £6 concession and a family ticket costs £15, covering entry for two adults and two children under 16.