Date: 29 Aug 2018
---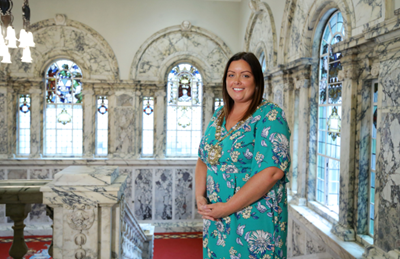 The Lord Mayor of Belfast Councillor Deirdre Hargey has said it is vital Council and its city partners pull together to support everyone affected by the devastating fire at Bank Buildings.
It is vital at this time that Council and its city partners pull together to do whatever we can to support everyone affected by this devastating event. Not only has this impacted on the Primark employees and the business itself, but it will have a knock-on effect for neighbouring businesses and city centre retailers, and they will need our support over the coming weeks and months. As a city, we all need to rally round those who need support now.

Council is committed to doing everything it can to assist in the recovery operation and keep Belfast city centre open for business.

Everyone is extremely sad at the damage to a building that has been part of our heritage and the Belfast cityscape for centuries. Aside from the devastating economic impact, the impact on such a beautiful building is devastating for the city and its built heritage.

The listed building was completed at the turn of the 20th century, designed by WH Lynn. The five storey, red sandstone on granite exterior was like so many of the buildings of that time in Belfast and the building enjoyed pride of place at the top of Castle Place, right in the heart of Belfast city centre. It is the third building on this site, the first being the actual bank building itself, dating back to 1787 – Cunningham's Bank - which went out of business in 1798.

A meeting was hosted by Belfast City Council this morning following yesterday's fire at Bank Buildings in the city centre, and a further meeting will be hosted by Belfast City Council at 2pm this afternoon, to provide an update for key holders and business owners within the cordon area.

This morning's multi-agency recovery coordination meeting brought together representatives from the PSNI, Northern Ireland Fire and Rescue Service, Belfast City Centre Management, Primark, Chamber of Trade and Commerce, Department for Infrastructure, Translink and Public Health Agency and other local businesses to provide an update on the current situation and coordinate immediate actions.

The NI Fire and Rescue Service has done a fantastic job, working tirelessly to bring the fire under control and keep people safe. Staff from Belfast City Council's Building Control service are assisting in the ongoing assessment of the building and a cordon will remain in place to ensure the safety of the general public. This work is ongoing.

Council officers are also in close contact with businesses in the immediate area of the fire to offer whatever support they can to ensure they can continue to operate where possible. We will also be liaising with representatives from Primark to assist in any way we can should they wish to seek alternative accommodation within the city centre.

An evening street fair due to take place in Castle Street tomorrow evening (Thursday 30) has inevitably been postponed. This is an exciting event and we are determined to reschedule and continue with our plans to animate this area of the city, to increase footfall and to rally round the traders in this part of the city centre.