Date: 10 Dec 2018
---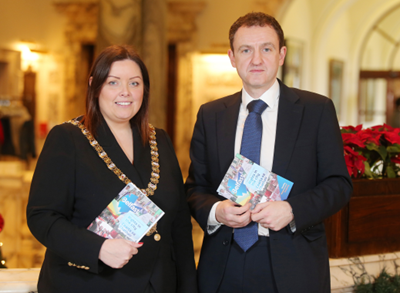 Belfast Lord Mayor Deirdre Hargey launched her Charter for the Citizens of Belfast at City Hall today
Belfast Lord Mayor Deirdre Hargey launched her Charter for the Citizens of Belfast at City Hall today (Monday).
The 'Rights in the City' document outlines the Lord Mayor's vision of a 'Belfast for All' and is centred on the areas of equality, empowerment and prosperity to create a bill of rights, strong communities and economic justice.
Speaking about the Charter, Councillor Hargey said: "Belfast is a changing city. It is a city of forward-looking and optimistic people with great ambition for a better future for all its citizens.
"We are a city with a shared and complex history, but with ambitions for an inclusive, rights-based future.
"The Belfast of today is a multi-cultural and multi-ethnic city with a rainbow of colours expressing that diversity in language, food, song and dance - and that is something to be embraced and celebrated."
The launch of the Charter coincides with International Human Rights Day and also speaking at the event was Prof Colin Harvey from Queen's University Belfast.
Prof Harvey said: "This is an excellent initiative and comes during challenging and difficult times for human rights. This document outlines how Belfast can be a leading human rights city – something that is a developing trend, and an example of the contribution cities around the world can make."
Councillor Hargey said her Charter was aligned to Belfast City Council's Belfast Agenda, the city's first community plan.
"The Belfast Agenda describes a Belfast reimagined, well-connected, and culturally vibrant; a producer of and magnet for talent. These aspirations are at the heart of this people's charter," she added.
"As Mayor, I would like all the citizens of Belfast to know that their Lord Mayor and Council are at their service and working on their behalf.
"At the beginning of my term in office, I committed that the rights of citizens would be central to my year, and it is for these reasons that today I am launching my Charter for the citizens of this city.
"This Charter is my commitment to the people of Belfast that their rights and needs will be centre stage."
The Charter covers women's rights, children and young people's rights as well as rights for those often marginalised by society. It also addresses mental health issues, the gender pay gap, minimum wage and maximising the social and economic potential of Belfast.
To read the Charter in full, visit www.belfastcity.gov.uk/lordmayor