Date: 11 Jan 2019
---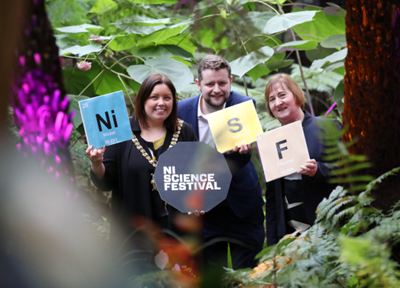 Acclaimed scientists Professor Brian Cox and Liz Bonnin, UV Yoga, and a crash course into the teenage psyche are some of the hot tickets at this year's NI Science Festival as they announce their stratospheric programme.
Acclaimed scientists Professor Brian Cox and Liz Bonnin, UV Yoga, and a crash course into the teenage psyche are some of the hot tickets at this year's NI Science Festival as they announce their stratospheric programme.

The complete schedule of events was revealed today, Thursday, January 10, as the festival launched its 2019 programme at Botanic Garden's Tropical Ravine, Belfast. With almost 200 events across 11 days and spanning over 50 venues throughout Northern Ireland, NI Science Festival 2019 has created a programme packed with dynamic exhibitions for people of all ages.

Some of this year's biggest events include: An audience with Professor Brian Cox at the SSE Arena (February 15); Sarah Jayne Blakemore presents her award-winning book on 'The Secret Life of the Teenage Brain' (17 February), and biological scientist Liz Bonnin's lecture addressing the environmental crisis 'Drowning in Plastic' at the Whitla Hall, Queen's University Belfast (February 24).

NI Science Festival 2019 now in its fifth-year, acknowledges significant milestones in science – 150 years of the periodic table, 50 years of the first moon landing and 30 years of the internet, which are all celebrated in the abundant programme of Northern Ireland events.

The Festival will also be addressing science's hot topics – climate change, space travel, neuroscience, democracy and the internet, autism, and many more.

The festival will host a range of workshops, talks and interactive activities for young people, parents and schools, coupled with an assortment of debates, talks, theatre, comedy, music and film to science, technology, engineering and mathematics for older audiences.

Hearing Your Genes Evolve (14 February), at SARC, Queen's University, Belfast, tells the story of genetics performed by a string arrangement composed by Deirdre Gribben and narrated Dr Sarah Teichmann. Geoff Maskell and Helen Czerski's will be telling audiences how to save the world in 12 years with the thought provoking talk Wild Weather, Physics and Climate Change (or 12 years to save the world) on 24 February.

Other intriguing events for all ages include The Science of Roald Dahl at the Ulster Museum (16 February), Nick Arnold author of the hugely popular Horrible Science series (23 February) and Dr Faye Skelton presenting her research on the psychology of false confessions at the Crumlin Road Gaol (22 February).

The future of AI will be addressed at this year's Turing Lecture with Krishna Gummandi's Engineering a Fair Future (21 February) as he discusses how humans and AI can live together without the surrounding bias that may arise.

The Festival will also host a range of world class exhibitions – from 20 February visitors at the Ulster Transport Museum can view the Soyuz space capsule that brought British astronaut Tim Peake into space and at W5 see the Earth closeup in 3D with Gaia, a 7m wide artwork of planet earth.

Adults will get to experience the joys and a drink at some of NI's coolest venues with adults-only, after-hours events at W5 Late (16 February), The Armagh Planetarium After-Dark (22 February) and LateLab where the Ulster Transport Museum (22 February).

NI Science Festival Director, Chris McCreery commented: "Over the 11-days people can take part in a range of events for all ages and interests; find out about the anatomy of singing with NI Opera, witness a heart dissection at the Black Box or discover when dinosaurs were sick.

"We are tremendously proud of this year's programme due to the variety of events and the calibre of our special guest speakers from a range of industries."

Chris concluded: "It is a privilege to invite renowned household names in science such as Professor Brian Cox and broadcasters Liz Bonnin, Maddie Moate, and Greg Foot, as well as local creative talent – harpist Ursula Burns, comedians Robbie McShane & Mary Flanigan and musician Colin Reid to name a few.

Lord Mayor of Belfast, Councillor Belfast Lord Mayor, Councillor Deirdre Hargey, said: "Belfast City Council is delighted to support the NI Science Festival, now in its fifth year, and which continues to surprise, challenge and excite with its programme of 200 events. It is a unique festival, the largest of its kind in Ireland and one which raises the city's international profile, particularly in the quality of the speakers it manages to attract and the even wider range of events it presents.

"People of all ages can learn about STEM subjects in a fun way, one in which their imagination is fired and which we hope to build upon in a future workforce. Technology advances so fast we need to part of it and with the NI Science Festival we are doing just that – congratulations on a wonderful event."

For the first time this year, NI Science Festival has partnered with pioneering ticketing platform Citizen Ticket to securely manage all online bookings who have developed their own blockchain network in order to combat issues such as ticket touting and fraud.

Heather Cousins, Deputy Secretary at the Department for the Economy, said: "The Department has been the lead sponsor of the Science Festival since the very beginning and we're delighted to see how it has developed into one of the most successful events of its type in the UK. Given our key role in securing a more competitive and productive economy for Northern Ireland, we are keen to ensure that young people are equipped with the skills to contribute effectively to a world of work that is constantly changing and increasingly influenced by automation and artificial intelligence."

Heather added: "While formal education pathways delivered by our schools, further education colleges and higher education institutions play a significant role in providing young people with the building blocks they need to build a career in STEM related jobs, activities outside of the classroom can be more stimulating and approachable, especially to those who don't thrive in a formal environment. The Science Festival, with its unique, innovative and fun approach to science and technology, is inspirational to our young people and the people who influence them, helping to demystify the impact science has on all aspects of our lives."

NI Science Festival is supported by the Department for the Economy, Belfast City Council, Tourism Northern Ireland, Queen's University Belfast, Ulster University, Innovate UK, British Council Northern Ireland, Matrix, Derry City and Strabane District Council, and STEM recruitment specialists MCS Group.

NI Science Festival kicks off across Northern Ireland in various venues from 14 – 24 February 2019. For more information about NI Science Festival events and to purchase tickets, visit www.nisciencefestival.comand keep up to date with the festival on social media via Facebook and Twitter.