Date: 17 Sep 2018
---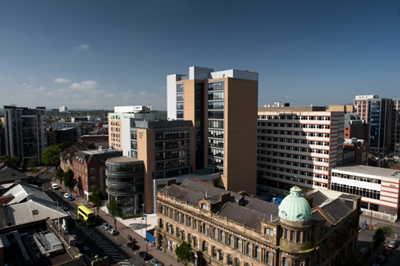 A pilot project is underway in Belfast's Linen Quarter to help transform it from a 'go-through' area to a 'go-to' area.
The Better Bedford Street project is trialling some modest physical changes, including widening the footway, introducing public seating, increasing bicycle parking and installing LED street lighting in a bid to make the area more attractive for pedestrians.

From Monday 17 September, there will be a programme of supporting animation activities including live street music at lunchtime, daily walking tours and a series of events at Linenopolis.

The street will also host a live music event on Friday 21 September as part of Belfast's Culture Night.
The project is the result of partnership working between central and local government, the business community and a range of other stakeholders.

Councillor Matt Garrett, chair of Belfast City Council's Planning Committee, said: "We've committed in our Belfast Agenda to help shape a city that is vibrant, attractive, connected and environmentally sustainable; so it's important that as a city, we look at new and innovative ways of changing how we do things for everyone's benefit.

"We want our city centre to be open, to create space for people to come together and enjoy time outdoors. Our vision for Belfast is that we are the best we can be for those who live, work, socialise in or visit."

Ciarán Fox, Director Royal Society of Ulster Architects, one of the main supporters of the Better Bedford Street campaign, said: "If we are serious about making places more attractive for people we need to put people first and we have to be willing to try new things. Over the next two weeks small changes will be taking place in the street which will hopefully make it a more welcoming place for people. I encourage everyone to come down, play a board game, enjoy the music and share your thoughts using #BetterBedfordStreet.

"Thanks to all the architects and landscape architects who have volunteered their time to help make this project happen. As a city it is important that we put good design at the heart of our plans for the future as it can deliver long term benefits to the whole community. This project will help inform projects across the city and beyond."

Katrina Godfrey, Permanent Secretary of the Department for Infrastructure said: "We are pleased to be working collaboratively with our partners on an innovative project designed to make Bedford Street more inviting to pedestrians.

"This approach should deliver a more open, attractive and accessible environment that people want to spend more time in. More space has the potential to create business opportunities and encourage future investment; we hope as well that it will encourage walking, support healthier lifestyles and enable more people to enjoy our outside spaces.

"We will continue to work closely with our partners inside and outside of government to review the scheme at the end of the pilot to see how it has achieved its aim of helping to deliver better places for all."

Leo O'Reilly, Permanent Secretary of the Department for Communities said: "We welcome the Better Bedford Street pilot project, as working together to promote successful, inclusive, well designed places which inspire civic stewardship will have an enduring positive impact on people's lives. It will maximise the wider economic, cultural and community benefits of the built environment and create a place where people want to live and work, visit and invest.

"The Better Bedford Street will also inform the designs for Phase 5 of the Belfast Streets Ahead Public Realm Improvement Programme and other regeneration/public realm schemes."
Among the temporary measures being introduced to encourage more pedestrians is a footway widening scheme on the east side of Bedford Street between James Street South and Clarence Street.

Design teams are also planning to animate the street, providing colour and greenery as well as rest-stops for people to sit and relax.

The trial will last for around three months after which time it will be reviewed and 'lessons learned' fed back to the strategic group.

In addition to the pilot project for Bedford Street, the pop-up visitor experience 'Linenopolis' is at Bedford House until the end of September.

Located opposite the Grand Central Hotel, it's the first ever experience on the island of Ireland wholly dedicated to linen – providing both an insight to its social, economic and cultural history and a showcase for the best in contemporary linen brands as part of the first Linen Biennale.

In a nod to the heyday of linen in Belfast, 'Linenopolis' includes story boards, images and artefacts highlighting the city's linen heritage, accompanied by 33 leading linen entrepreneurs including Katie Larmour, Mourne Textiles, Flax Fox, 31 Chapel Lane and Placed Ireland displaying their artisan wares.

For further information on #BetterBedfordStreet visit https://www.infrastructure-ni.gov.uk/publications/betterbedfordstreet

To join the Better Bedford Street conversation, follow #betterbedfordstreet on social media.