Date: 07 Dec 2022
---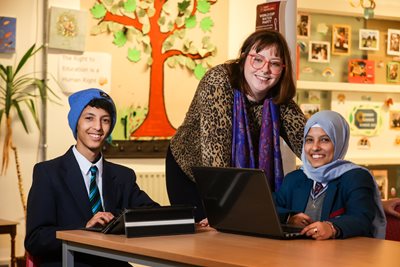 Belfast City Council's Reuse IT scheme is making its mark back in the community.
Donated tablets and laptops no longer in use collected at Ormeau Household Recycling Centre have been refurbished and redistributed to groups across the city.
15 devices were refurbished in phase 1 of the scheme and have been delivered to the Belfast Intercultural Romanian Community and the Conway Education Centre for use by the after-school club working with refugees and asylum seekers.
Pauline Kersten, programme manager at the Conway Education Centre is delighted to receive devices from the council. She said: "This is such a wonderful initiative that the council is delivering. The impact this will have on our ability to deliver quality online learning for our students is immeasurable.
"Many of our students have limited access to online learning which seriously impacts their ability to fully benefit from our programmes in the Conway Education Centre. These new devices will enhance our current resources and improve our offering as a key learning provider within the local community."
The council is working in partnership with Ignite IT. Ignite IT complete the technical checks on devices. If a device is suitable for reuse, Ignite IT repair or replace parts, wipe all personal data from hard drives and install new software.
Chair of Belfast City Council's People and Communities Committee Councillor Micky Murray is encouraging more people to get involved in the scheme. He said: "It's fantastic to see devices being distributed back into communities following phase 1 of our Reuse IT pilot project. Giving a new lease of life to our old laptops and tablets is a fantastic example of our circular economy in action and helps us reduce the amount of waste we're sending to landfill. So, if you have an old device sitting at home that's no longer in use, have a think about donating it to our Reuse IT scheme."
The Reuse IT has added social and economic benefits, delivering devices to individuals and organisations most in need.
Phase 2 of the scheme is now live and unused household laptops and tablets can be donated at Ormeau Household Recycling Centre.
For more information on how to donate your old device visit www.belfastcity.gov.uk/reuseit