Date: 18 Aug 2023
---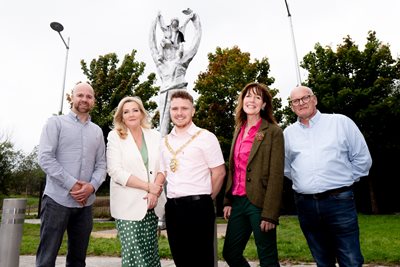 A striking seven-metre-tall aluminium sculpture has been unveiled on Springfield Road in Belfast.
Carry Each Other was sculpted by local visual artist Sara Cunningham-Bell as part of the EU PEACE IV-funded Forth Meadow Community Greenway.
It aims to reflect the strength of community in Belfast and the importance of supporting each other. It features an adult carrying a child on its shoulders, with the child in turn carrying a bird to represent vision and future plans.
Belfast Lord Mayor Councillor Ryan Murphy said: "Carry Each Other is inspired by the community's hope for the future. It is the signature piece of the Forth Meadow Community Greenway art project, which also saw five smaller pieces of floor art installed along the route of the greenway.
"In the development phase of the project, the artist engaged with almost 270 primary school children from eight schools, young children from Sure Start and Early Years, community groups from Bog Meadows and local walking groups. Fittingly, a selection of the children's designs are incorporated in the patterns in the final sculpture and the content of the floor art.
"Carry Each Other is sure to become an iconic landmark for local people and visitors to the area who come to use the new greenway."
Belfast City Council is delivering the £5.1 million Forth Meadow Community Greenway project, with funding provided by the EU's PEACE IV Programme, managed by the Special EU Programmes Body (SEUPB), the Department for Communities and the Department for Infrastructure. The Executive Office in Northern Ireland and the Department of Rural and Community Development in Ireland have provided support for the PEACE IV element of the project.
Gina McIntyre, Chief Executive of the Special EU Programmes Body (SEUPB) said: "We are delighted to see all of the 'Carry Each Other' art pieces brought to life along the greenway, not least this unmissable 7m tall signature sculpture by talented artist Sara Cunningham-Bell. The artwork has been developed as part of the £5.1 million PEACE IV Forth Meadow Community Greenway which connects opens spaces in north and west Belfast, and speaks to the sense of, and strength of, community in this city."
Artist Sara Cunningham-Bell said: "Engaging with the local community and in particular young people from neighbouring areas, helped inspire the final sculpture. It is a large person carrying another person and was designed so that people can walk through it, as well as around it. It represents how, if we carry each other through strengths and weaknesses, we are stronger."
For more information visit www.belfastcity.gov.uk/carryeachother