This page is more than a year old and may not contain the most up-to-date information.
Date: 15 Jan 2021
---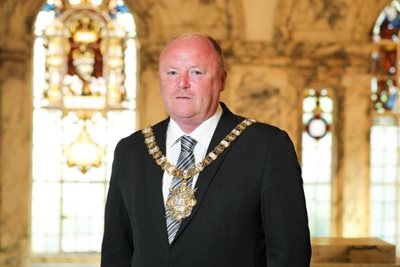 Belfast Lord Mayor Frank McCoubrey has sent a message of support to the Belfast Multi-Cultural Association after its premises were severely damaged by fire.
Alderman McCoubrey said he was "saddened" to hear news of the incident.
"I was shocked and saddened to hear news of the fire; while it is a blessing that no one was injured, this is a devastating blow for the volunteers who have been using this base to serve their community and others, and provide much-needed support to some of the most vulnerable in our society," said Alderman McCoubrey.
"The cause of the fire is still under investigation, and it is important that the investigation is completed; but it is sad to hear members of the Association speak this morning of ongoing hostility and tensions. As First Citizen, I want to offer them my support.
"There is no place in society for hate. Belfast is a diverse city and we are much richer for it. Throughout the ongoing pandemic, I have been heartened by the overwhelming sense of community spirit right across our city and I am certain that the people of south Belfast and beyond will unite in their support of Belfast Multi-Cultural Association, and support them as they work to restore the vital services they provide to the local community."