Date: 02 Jun 2020
---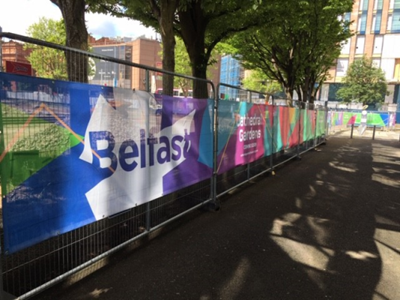 A park designed by toddlers and primary school children will be popping up in Belfast city centre later this year.
A park designed by toddlers and primary school children will be popping up in Belfast city centre later this year.
Work is underway to create the new landscaped area which will see space at Cathedral Gardens transformed into a kids-friendly zone with feature lighting and fun equipment installed including a giant spinning 'hamster' wheel, outdoor musical instruments, a swinging bridge, and colourful mushrooms on a carpet of rainbow grass.
New seating and 'bendy' benches are also being installed as well as picnic tables, to encourage people to relax and linger in the colourful new surroundings.
The £250,000 project is being funded by Belfast City Council as part of its ongoing city centre revitalisation work, with £93,000 additional funding provided by the Department for Communities.
Lord Mayor of Belfast, Alderman Frank McCoubrey said: "After we trialled the pop-up park at Castle Place with the Department for Communities, the feedback was that people wanted to see our city streets and open spaces be a more welcoming place for children and families.
"We've been working with the Department for Communities and the Department for Infrastructure to look at how we can reimagine our city centre as part of our emerging 'Bolder Vision' for Belfast.
"As the current restrictions begin to ease, and we all adapt to a different way of moving around our city centre, having these safe, family-friendly open spaces will be an important part of our future resilience and recovery."
Alderman McCoubrey added: "What's great about this project is, it's been designed for kids by kids, and I think that's fantastic.
"We talked to play workers and children about what we should include in the park and they provided us with a wish-list. We took that feedback onboard, and it has shaped the design of the park and the equipment we're installing – we're even delivering on the unicorn grass."
The park is being created as a meanwhile-use for the space and is expected to be on site for at least two years.
The project is being trialled as an example of how we might reimagine our civic spaces to encourage innovative use of spaces while addressing the need for social distancing within our city centre.
If successful, Council and its city partners will consider something more permanent at Cathedral Gardens based on feedback from the project.
Although the park is due to be complete by mid-summer, a date for its opening has not yet been confirmed as it is dependent on the public health advice and guidance from the NI Executive in response to the current Covid19 pandemic.
Communities Minister Deirdre Hargey said: "This pandemic has shown us that more than ever we should be appreciating our open spaces now and in to the future. Following on from the success for the pop-up park at Castle Place, this project is a creative example of my Department and the Council working together to enhance an existing open space for the benefit of all users of the city centre.
"It sounds like it will be a colourful, fun place to be when it is safe to do so, Cathedral Gardens will provide an enhanced public space for families, visitors and residents to enjoy."