Date: 22 Mar 2019
---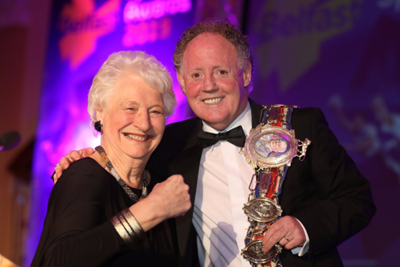 Lady Mary Peters joined Belfast Lord Mayor Councillor Deirdre Hargey this evening at City Hall to honour Belfast's sporting heroes.
Guests at the glittering awards ceremony included athletes, volunteers and coaches of all ages and abilities from across the city. As well as a host of awards, three athletes were also inducted into Belfast City Council's Sporting Hall of Fame: Hugh Russell (Boxing); Sandra Bailie (Bowls) and Sammy McIlroy (Football).
Known as "Little Red", Hugh Russell came to prominence internationally in 1978 when he won a Bronze medal at the Commonwealth Games in Edmonton. He then went on to win Bronze at the 1980 Moscow Olympics. With close to 70 Irish International caps for indoor and outdoor bowls, Sandra Bailie is recognised as one of Ireland's most talented bowlers. And the last of the Busby babes, Sammy McIlroy was the final footballer to be signed to Man United by Sir Matt Busby.
Belfast Lord Mayor, Councillor Deirdre Hargey told guests: "Having the opportunity to meet so many great sportspeople across Belfast is without doubt one of the highlights of my year in office as First Citizen.
"I'm regularly bowled over by Belfast's energy, commitment and dedication to sport – from competitors, coaches and supporters. We're really fortunate to have leisure facilities and infrastructure which are being transformed through a £105 million programme of investment. State of the art facilities at Andersonstown, Brooke and Lisnasharragh are due to open by early 2020 – so it's a great era for sport in Belfast.
"But even more importantly, we're lucky to have volunteers who tirelessly give of their time to coach, mentor, and train to give people opportunities to experience sport, healthy lifestyles and sporting success. As part of the Belfast Agenda, Belfast City Council invests £300,000 each year through Support for Sport; helping clubs, coaches and communities to help empower people of all ages through sport and encouraging them to learn about team work, focus and commitment. And thanks to a successful partnership with GLL and The Mary Peter's Trust, we're able to continue helping young athletes to fulfil their potential and chase their dreams. Tonight is about honouring Belfast's great commitment and passion for sport. A huge congratulations to all our nominees and award winners."
| Category | Sponsored by | Winner |
| --- | --- | --- |
| Pathways to Club | | Danielle McDowell |
| Coach of the Year (Senior) | GLL | Simon Flannery |
| Coach of the Year (Female) | GLL | Danielle Hegarty |
| Coach of the Year (Disability) | GLL | Simon McFarland |
| Coach of the Year (Junior) | GLL | Laura Vernon |
| Special Recognition Award | | Dean McComb |
| Healthy Lifestyle | Active Belfast | WISPA NI |
| Volunteers of the Year | | Brian Kirker and Tim Craig |
| Sports Personality (Junior Male) | Commonwealth Games | Jon McConnell |
| Sports Personality (Junior Female) | Commonwealth Games | Amelia Kane |
| Sport Personality (Senior Male) | Commonwealth Games | Brendan Irvine |
| Sports Personality (Senior Female) | Commonwealth Games | Kirsty Hegarty |
| Sports Personality (Disability Male) | Commonwealth Games | James McSorely |
| Sports Personality (Disability Female) | Commonwealth Games | Christine Erdis |
| Team of the Year (Junior Team) | Decathlon | Ulster Canoe Polo U18s |
| Team of the Year (Senior Team) | Decathlon | Pegasus Hockey Club |
For more information, go to www.belfastcity.gov.uk/sportsawards and join in the conversation on Twitter @belfastcc #BelfastSportsAwards