This page is more than a year old and may not contain the most up-to-date information.
Date: 17 Feb 2021
---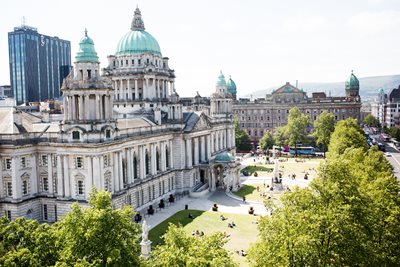 Belfast City Council has launched a free online resource focusing on major historical events in Belfast and the north of Ireland during 1920-22, as part of its Decades of Centenaries Programme.
Entitled 'Violence, Conflict, Militarisation and Displacement', each of the six available sessions was originally planned as part of a major conference that was to have taken place in City Hall, but had to be cancelled due to the ongoing pandemic.
Lord Mayor of Belfast, Alderman Frank McCoubrey said: "We have been running our Decades of Centenaries programme since 2011, and each year, we reflect on significant events in the city's history through programmes and events, in order to build a shared understanding of our past in a way that can build good relations and foster reconciliation.
"The ongoing pandemic forced us to rethink our plans for this year, but I am really pleased that we have been able to work with the Nerve Centre, our partners in this project, to create this very valuable online resource. It is a great way for people to find out more about this period of our country's history from a range of expert speakers who offer different insights."
The online content includes talks by a number of well-known historians and authors including Dr Alan Parkinson, Jim McDermott, Dr Brian Barton, Liz Gillis and Dr Éamon Phoenix, as well as a panel discussion, chaired by Deirdre MacBride.
Reflecting on his session, 'The political landscape in 1920', Dr Phoenix said: "The years 1920-22 mark a critical period in the history of this island. 1920 witnessed the escalation of the Irish War of Independence, the formation of the Ulster Special Constabulary and the final passage of the Government of Ireland Act at Westminster, paving the way for partition and the establishment of Northern Ireland as a self-governing entity in June 1921.
"These events occurred against a background of political and sectarian violence and work expulsions in Belfast, the creation of minorities, north and south, and the historic speech of King George V in Belfast City Hall which made possible the Anglo-Irish Treaty and the establishment of the Irish Free State in 1922."
Each of the online sessions is available to view on both the Council's and the Creative Centenaries websites.
Danielle Mackenzie, Good Relations Communications and Engagement Officer with the Nerve Centre said: "The Nerve Centre's Creative Centenaries is a hub of information and resource around the Decade of Centenaries, helping to make the period more accessible and to encourage engagement with our past. We were delighted to work with Belfast City Council to help develop this suite of video resources that can be used by people of all ages to understand the significance of events from the time."
During 2021, the Decades of Centenaries Programme will mark the 100th anniversary of the partition of the island and the formation of Northern Ireland.
For more information and to view the videos, visit www.belfastcity.gov.uk/decadesofcentenaries