Date: 06 Jun 2019
---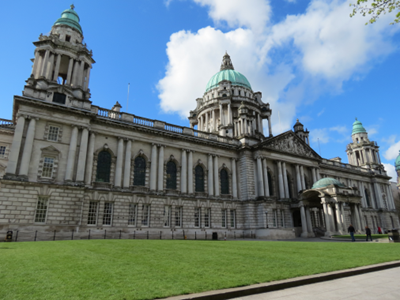 Be More Connected will launch at Belfast City Hall on Monday 17th June from 10am-12:30pm, with Lord Mayor of Belfast, Councillor John Finucane offering his support to the day of action on tackling loneliness and isolation.
To mark the start of Loneliness Awareness Week (17th June – 22nd June), organisations across Belfast want to celebrate the things that bring us together and help tackle loneliness across the city.
The organisations are asking people in Belfast to get involved by taking the time to connect with each other. Research shows that small moments of connection - a wave across the road to a neighbour or a cheery chat with a stranger - help people feel more connected in their communities, and can help tackle loneliness and isolation.
Loneliness is one of the most pressing issues of our time. In 2018, the Royal College of General Practitioners Northern Ireland (RCGPNI) said that loneliness has become a "public health epidemic", with one in five patients visiting their GP mainly because they are lonely.
Be More Connected will showcase the businesses, projects, and programmes across Belfast that are helping people of all ages feel less lonely. The launch event will celebrate activities that bring people of all ages together.
Be More Connected has been co-ordinated by Campaign to End Loneliness, Age NI, Belfast City Council, Belfast Health Development Unit, Red Cross, CLARE (Creative Local Action, Responses and Engagement), Volunteer Now and other agencies, organisations and groups across Belfast.
Lord Mayor of Belfast, Councillor John Finucane said: "Loneliness and isolation is a very serious issue that many people in our city face on a daily basis. The Be More Connected event promises to be a fantastic interactive experience showcasing the innovative work organisations across Belfast do to help those who find themselves socially isolated. I would encourage as many people as possible to come along and make new connections and enjoy the many wonderful events that will be on display."
Robert Atkinson, who attends Age NI's Skainos day centre in East Belfast said: "I felt the dark old days of depression due to isolation and loneliness lifted when a kind friend introduced me to an Age NI day centre in East Belfast. It opened a completely new world for me and with the help of the wonderful competent staff, I am still in that bright new world."
Fiona Murphy, Campaign Manager for Northern Ireland at Campaign to End Loneliness said: "I am delighted that charities and public sector organisations are coming together for this event to help end loneliness in Belfast. Loneliness is something which we are all vulnerable to, so it is fantastic to see that so many exciting initiatives and organisations will be showcasing the work they do to combat this. At Campaign to End Loneliness, we know that by working together we can inspire connection, tackle loneliness, and bring people together.
Events on the day
Come along to Belfast City Hall on Monday 17th June for the launch event, 10am to 12.30pm, for a fun and informative morning.
There will also be other activities happening throughout the day, including:
• Pop-up choir - 11:45am and 12:15pm - open to all! Join in and learn a new song
• Queen's Film Theatre - 3.30pm - screening of 'Older than Ireland' followed by director's talk and audience discussion
• Black Box - 7.30pm - strut your stuff at the 'Slipped Disco'
Lots more happening in the grounds of the city hall and in shops and buses around the city. Members of the public are encouraged to join us. There is no need to register, just call in, but for more information contact Tanya Hay 028 90502073 or email seniorsinfo@belfastcity.gov.uk.
For the full list of events and activities please visit: https://www.belfastcity.gov.uk/events/Event-106801.aspx