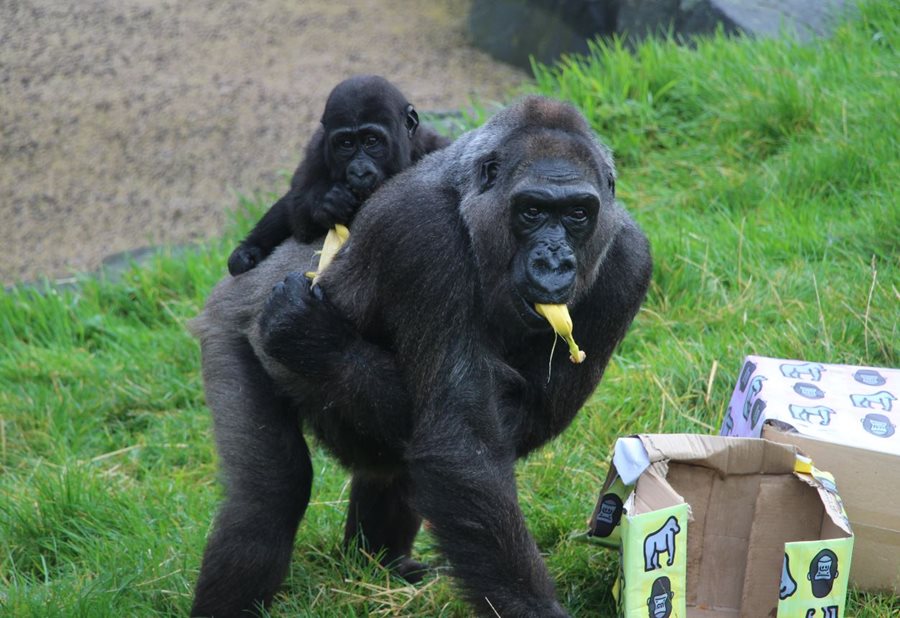 We celebrated the first birthday of gorilla, Kofi, on Thursday.
Our youngest western lowland gorilla was born to mother Kamili and father Gugas on 8 October 2021.
To celebrate, the troop of gorillas, also known as a band, received food in gift boxes including a specially made jelly cake.
Belfast Zoo Senior Keeper Lara Clarke explained that the celebration was about more than just the newest gorilla's birthday. "Kofi's first birthday is more than just cake and presents. His birthday is cause for significant celebration for us as we reflect on our ongoing conservation work with this critically endangered species. It was twelve months ago that we welcomed Kofi into the world and he has truly stolen the hearts of visitors and staff alike.
Unfortunately, this species of gorilla is critically endangered in the wild with the total population estimated to be less than 100,000. We work collaboratively as part of an internationally important breeding and conservation programme for these beautiful - but highly threatened - gorillas."
Conservation success has been seen elsewhere at the zoo as Zoo Manager Alyn Cairns explains, "Our records show that in 2021 - 22 we welcomed over 30 births, two-thirds of which are either endangered or critically endangered.
Conservation and education are at the heart of what we do and it is crucial that we continue to work collaboratively with zoos across Europe in order to prevent these vulnerable species from becoming extinct.
2022 has been a highly successful year for us in terms of conservation, as we have welcomed several endangered species such as cotton-top tamarins, Eastern bongo, a male giraffe calf and several rare Francois leaf monkeys. In addition to this we have also successfully bred red squirrels which will soon be released into the wild as part of a collaborative breeding programme with several local groups."
Not only can visitors wish Kofi a happy birthday, they can also sign his extra-large birthday card which will be on display at our Visitor Centre.
This autumn, we have a 'zooper' half term deal with half price offers on all kids, students and seniors' tickets from Monday 31 October to Friday 4 November.
We are open every day 10am to 4pm, with last admission at 2.30pm. The animal houses start to close from 3pm.