Friends of the Zoo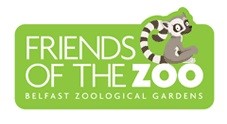 Friends of the Zoo was formed in 1997 by a group of community volunteers with a shared love for the zoo. Belfast Zoo friends can volunteer in different ways including:
animal habitat improvement works
animal craft workshops
animal artefacts displays
special zoo events
fundraising projects
committee meetings
animal talks
Friends of the Zoo regularly donate their fundraising efforts to Belfast Zoo. In recent years this has led to the development of our Scottish wildcats habitat and animal artefacts for our education programmes. Your donations to Friends of the Zoo will contribute directly to Belfast Zoo.
Friends of the Zoo is a registered charity, number NIC107494.
For more information, to volunteer or donate, contact Friends of the Zoo (link opens in new window) or email fo_bz@hotmail.com
Group volunteering
Would you like to be a zoo volunteer for a day? We have a range of activities that your group can complete.
Our group volunteering offers a fun and practical day, with some hard work thrown in.
We have a range of activities volunteers can complete including:
re-barking animal habitats
cutting branches for the giraffes, elephants and monkeys
small gardening tasks
cleaning
arts and crafts and painting
Our volunteer days offer fantastic development opportunities as well as the chance to give back to the zoo which takes part in over 60 breeding and conservation programmes.
Whether you want to develop new skills, gain experience working as part of a team, or simply enjoy the opportunity to work in a zoo, we always welcome an extra pair of hands.
We can accommodate volunteers during September to March. You must be aged 18 or over to take part in group volunteering.
If you are interested in organising a group volunteer day, or would like more information, please email education@belfastzoo.co.uk or call 02890776277.