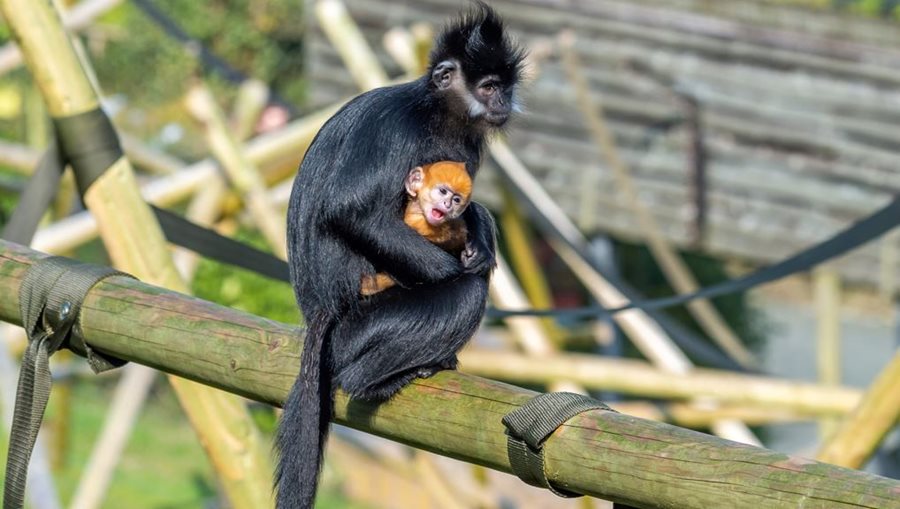 Photo credit: Alan Campbell
---
An endangered François langur has been born at the zoo.
The sex of the baby is still not yet known as keeping staff allow time for the family unit to bond.
Born on 2 March, this is the second of its kind to be born at the zoo in the last year. The arrival of both infants is news to be celebrated as numbers of this lesser-known primate are estimated to be less than 2000 in the wild.
Zookeepers report that second time mum, Chúa, is doing well and showing all the right maternal signs.
Zoo Manager, Andrew Hope, is the studbook keeper for the François' langur breeding programme. He is responsible for co-ordinating the genetic and reproductive management of this captive population, which are living in seven zoos across Europe.
Andrew Hope commented, "The arrival of two Francois langurs over the past year is a great cause for celebration, both for Belfast Zoo and for this endangered species as a whole. This infant joins sibling Hongxing who was born last May and was hand-reared by one of our keepers. Hongxing has now been fully integrated back into the family unit and it has been a joy to see her bonding with her new sibling."
The zoo has celebrated the birth of this rare species many times before and have been incredibly successful at breeding this endangered primate with over 20 infants born since the zoo started keeping them in 1994.
This beautiful but lesser-known monkey is native to China and Vietnam and is threatened by poachers and loss of habitat in its home countries. They have black fur with white streaks of hair running from their mouths to their ears. They also have a tuft of hair on top of their head. However, infants are born with orange fur which gradually changes to adult colouration as they mature.
The zoo is open 10am to 6pm every day over Easter. Free activities are planned for Monday 19 April (Easter Monday) and Tuesday 19 April from 10am to 4pm, including:
Face painting
Sensory touch tables
Walkabout characters
Easter trail
Online booking remains essential for admittance to help maintain comfortable capacity levels, reduce queuing, and ensure the best possible experience for all visitors.
Normal admission applies.