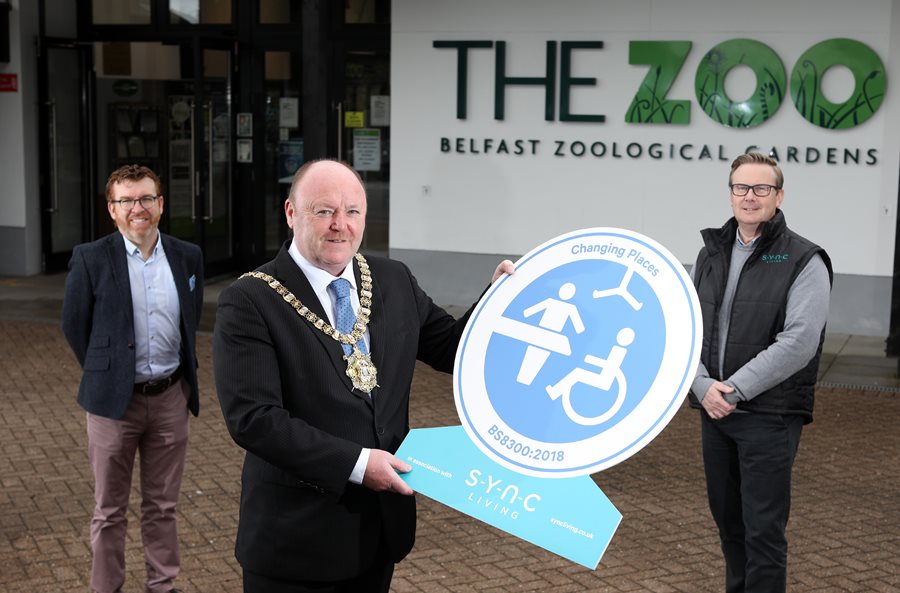 The Changing Places facility is a specialist accessible toilet with changing facilities, providing people with profound and multiple learning disabilities, their carers, assistants and families the confidence to enjoy a day out at Belfast Zoo.
The accessible facility is designed with enough space and equipment for people who are not able to use the toilet independently. Located in the zoo's Visitor Centre, the space offers a height-adjustable adult-sized changing bench, a ceiling mounted hoist, a centrally placed toilet with space either side, non-slip floor, privacy screen, adjustable washbasin and emergency alarm.
Lord Mayor, Alderman Frank McCoubrey, who visited the new facility ahead of the zoo reopening to the public, said:
It is vitally important that we do all we can to ensure our facilities and venues are as accessible as possible, for all our visitors and citizens, and I'm delighted that this Changing Places facility is now open. We want to offer the best possible experience for anyone who visits Belfast Zoo, and this is an important step forward in making it more accessible and inclusive for everyone.
Karen Hoe, MDUK Changing Places Development Officer said: "Changing Places toilets are a lifeline for more than a quarter of a million disabled people across the UK. In Northern Ireland, having access to one of the Changing Places toilets can make a world of difference for people with conditions like muscular dystrophy, ensuring greater independence and making planning days out much easier."
Andrew Smyth, Changing Places Specialist at Sync Living said:
This facility will mean that guests can enjoy a wonderful day out at the zoo, without fear of having to cut their day short due to inadequate changing facilities. It is great to see Belfast Zoo and Belfast City Council acting upon their commitments to inclusivity and accessibility, promoting well-being for all.
In addition to the new Changing Places facility, Belfast Zoo recently upgraded its accessible car parking bays to provide direct low-level access to the zoo's Visitor Centre. Visitors to the zoo can avail of a range of accessible provisions at Belfast Zoo such as a wheelchair-friendly guided tour of the zoo (booking essential), free entry for carers, free wheelchair hire, free audio tour and fast track access for visitors with sensory requirements.
Access to the Changing Places facility is available during the zoo's opening hours:
Monday to Sunday, 10am until 6pm from April to September
10am until 4pm from October to March
For further information on accessibility at Belfast Zoo please visit Accessibility in the zoo.