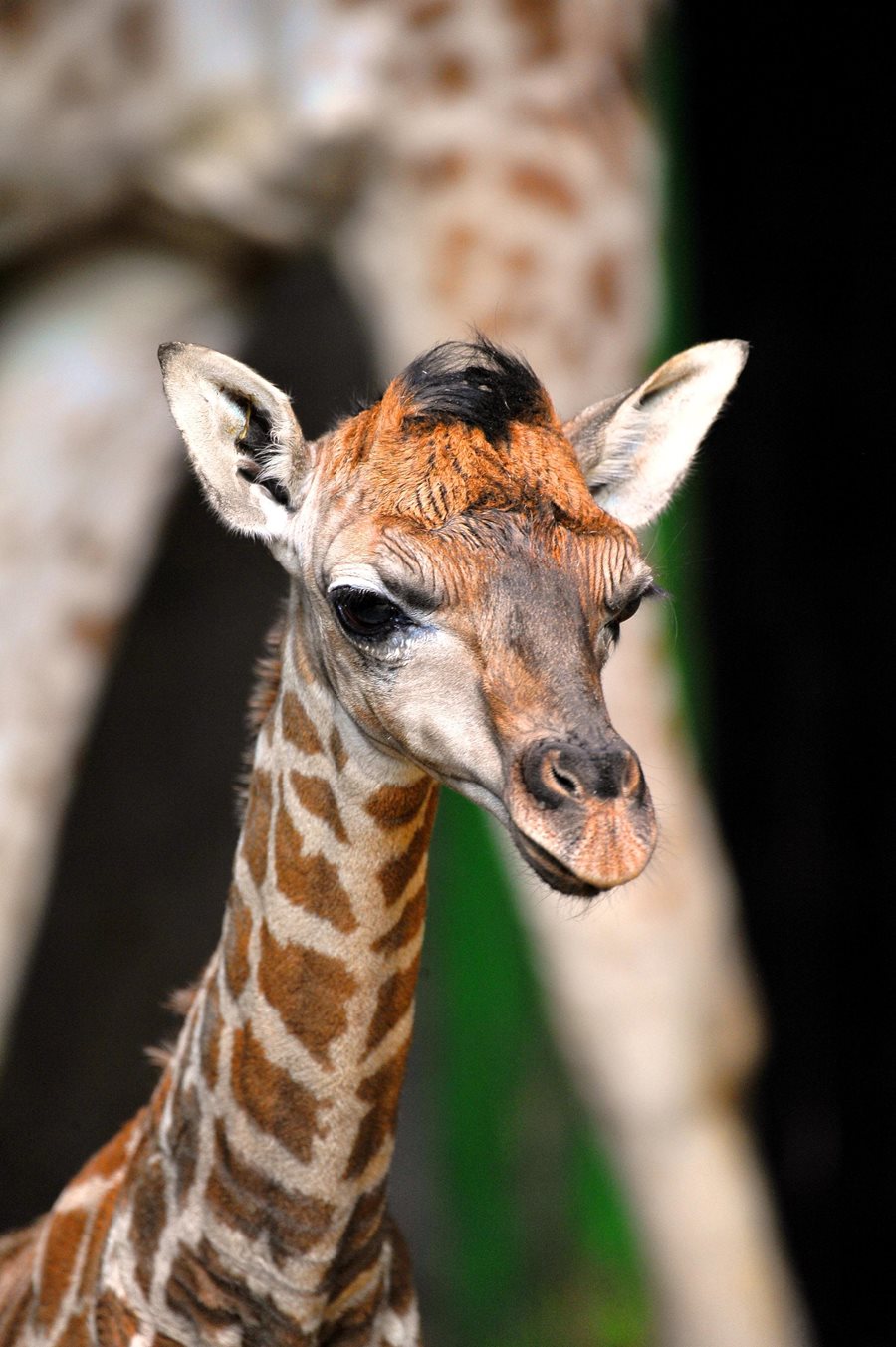 The latest addition to our herd of endangered Rothschild's giraffes was born on 31 May. The new giraffe calf named Ballyronan (or Ronan for short) is delighting both visitors and staff!
Zoo Curator, Raymond Robinson explains:
It is tradition at Belfast Zoo that any new giraffe calves born are named after towns and villages that begin with Bally. Both mother and calf are doing exceptionally well. Giraffes give birth standing up and the front feet are delivered first, followed by the head, neck and shoulders. The calf falls more than five feet to the ground, which doesn't hurt, but does cause the calf to take its first big breath. Calves are five to six feet in height at birth, learn to stand within 30 minutes and can run just 10 hours after birth!
Standing at 5 foot 2 inches tall, Ronan might not be the tallest calf ever born at the zoo - however, what he lacks in height he is said to make up for in personality.
Senior Keeper, Peter Cross, commented: "Little Ronan is one of the shortest giraffe calves ever born here at Belfast Zoo, however he has one of the biggest personalities and is full of beans! He loves adventure and spends most of his day following his big brother George, exploring the paddock and generally getting up to mischief together."
Robinson added: "This is an exciting time in the giraffe house with the arrival of Ballyronan and indeed across the wider zoo as we have had a number of new additions including a Southern pudu and a pair of Scottish wildcat kittens. It is fantastic to be able to welcome visitors again and for everyone to enjoy our residents both new and old."
Giraffes are one of the world's most iconic and loved animals, but they are facing increasing threats in the wild due to poaching and habitat destruction. Rothschild's giraffes are one of the most endangered of the nine subspecies of giraffe.
Since reopening, we have implemented new health and safety measures in place to keep staff, animals and visitors safe.
Entry will be permitted by strictly pre-booked tickets only. These can be booked online or by telephoning us.
We look forward to seeing you all very soon, and introducing you all to little Ronan!