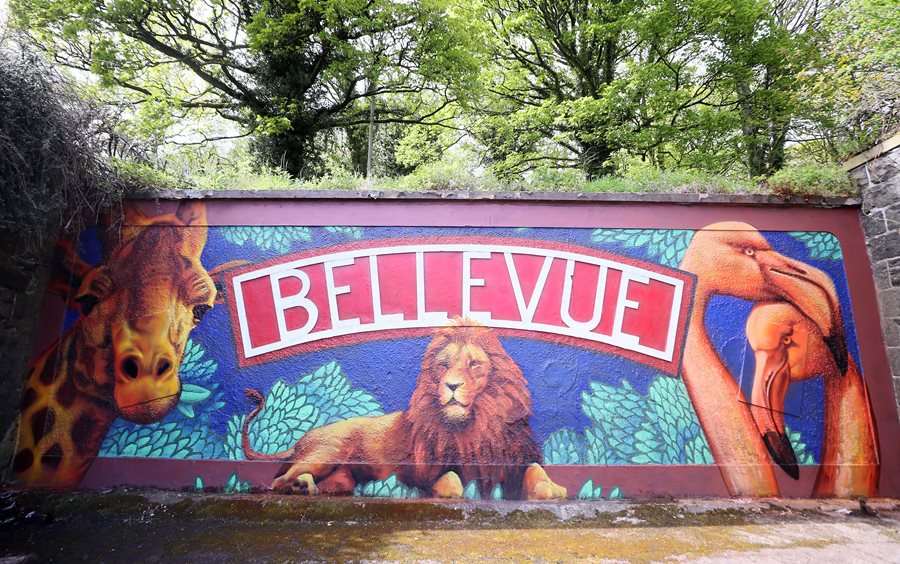 Local artist Stephen Jamison was commissioned to paint a colourful new mural inside our education centre. Stephen has been painting wildlife for over 15 years and is a regular visitor to Belfast Zoo. His mural is a tribute to some of our most popular animals and he has created a striking jungle habitat with lots of species hidden within it. Visitors who book an education discovery session can view this mural.
Recent visitors may also have noticed that the bottom of the old Bellevue steps has been given a colourful transformation. Coinciding with this year's Hit the North street art festival and with help from Belfast-based art collective Seedhead Arts, London street artist Irony created a vibrant piece of art to transform the bottom of the steps. The new artwork has created a striking piece of art for passers-by to look at that also reflects the history of the local area. The artist has incorporated a lion, giraffe and flamingo into the design, reinforcing the zoo's long association with the area.
Last but by no means least, mural number three can be found on our farm. This large mural shows one of our most popular species at the zoo – the sloth! The mural is very timely for us as just last week we welcomed the arrival of female two-toed sloth, Priscita, from a zoo in Germany. All visitors to the zoo can view this mural.
We hope that these murals will act as a catalyst for further development in the zoo and wider area.