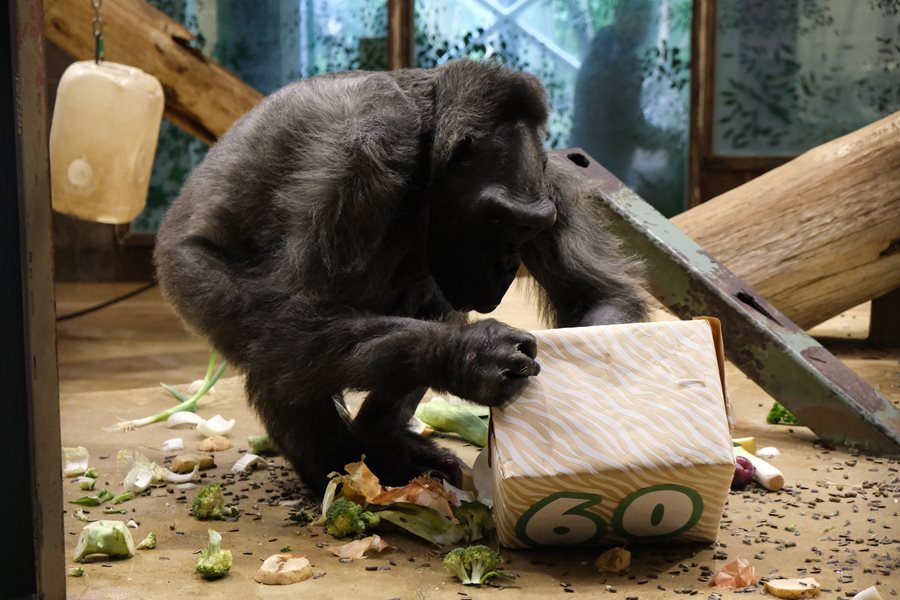 Delilah is not only a celebrity at Belfast Zoo but also shot to fame in the 1970s when she starred in the BBC TV show "Animal Magic" with Johnny Morris.
Delilah arrived at Belfast Zoo in 1992 and was part of the first gorilla group here. Zoo Keeper Simon Beasley commented, 'Delilah is turning 60 and is the second oldest in Europe. She has been with us at Belfast for the past 31 years and still has a lot of character despite her advanced age for a gorilla. Delilah is a dream animal to work with and will engage with the keepers and enjoys when you talk to her during her breakfast in the morning."
Delilah lives with the rest of the gorilla troop, including silverback, Gugas, Kwanza, Kamili, Namoki, Baako, Olivia and Kofi.
Zoo keeper, Demi Cummings, commented, 'Delilah has been a loving grandparent figure within the group. She is often seen engaging and playing with the youngest gorilla, two-year-old Kofi. These animals are incredibly social, and every member of the troop plays an important role in the family dynamic."
Western lowland gorillas are a highly endangered great ape species found in the rainforests of West Africa. Recent estimates show fewer than 200,000 gorillas remain in the wild today.