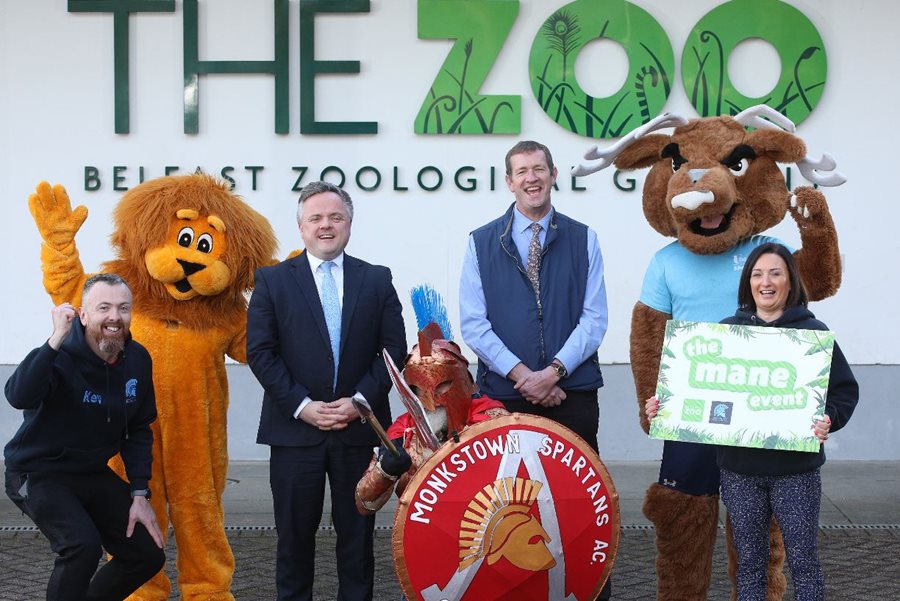 There will be the exciting drum of a herd of runners making their way through the zoo on Sunday 26 March 2023. We're delighted to announce that The Monkstown Spartans are organising the "Mane Event", a 5k run that will take place on our scenic grounds.
This is the first event of its kind to take place at the zoo. Monkstown Spartans representative Kevin Moseley and Councillor Carl Whyte came to celebrate the upcoming event with Zoo Manager Alyn Cairns.
They weren't the only ones! They were joined by several of the Monkstown Spartans runners, zoo mascot Brian the Lion, and event sponsor Ulster University Sports Centre's mascot, who all flocked together in anticipation of the "Mane Event".
The course will follow the paths of Belfast Zoo around the habitats of some of the 110 species we are home to, who we're sure will be buzzing with excitement and jumping for joy. The runners will also get to enjoy the views of Cave Hill above and Belfast Lough below, as they make their way around the hilly course.
Everyone will have a chance to enjoy the fun even if they don't want to join in with the run. Spectators can come to the zoo to watch the Mane Event, and will even get a 50 per cent discount on zoo entry.
This run will be supporting two very worthwhile charities. Northern Ireland Children's Hospice provides specialist care to children and young people with life-limiting and life-threatening conditions. Panthera is devoted to the conservation of the world's 40 species of wild cats and the vast ecosystems they inhabit.
Zoo Manager, Alyn Cairns, said "This is exciting news for the zoo and we appreciate the efforts of everyone who has come together to organise this event. This unique event is also a great opportunity for people to experience the amazing species that we are home to and our beautiful views. It's brilliant that this run is supporting such fantastic charities."
Read more about The Mane Event (link opens in new window)
Information for spectators
Spectators must book their entry in advance by calling Belfast Zoo on 028 9077 6277 or emailing info@belfastzoo.co.uk with their contact details. Discount only applies to spectators for the race on Sunday 26 March 2023. Spectators must be at location in the zoo grounds prior to 9am on this date.