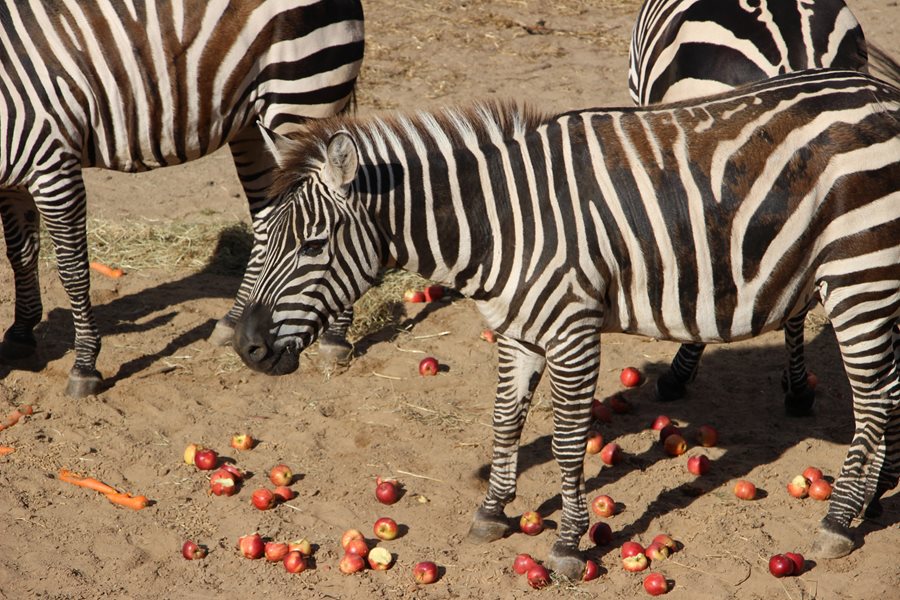 A group of zebras is called a "dazzle", and Sandy certainly dazzled everyone when she reached this landmark age. The average life span of the zebra is between 25 and 30 years and it's believed that Sandy is the oldest Grant's Zebra in Europe- an impressive feat!
Grant's Zebras are the smallest species of zebra, measuring around 1.5 metres at the shoulder. Sandy has been small in stature but large in the zoo keepers' hearts. She lives up to her name and loves to roll around in the sand and get very sandy! Sandy is a bit of a character, she discovered that there's a warm air vent at the front of the house and can now often be found relaxing in her favourite spot.
Sandy is close to her two zebra companions, Ellen and her daughter Ember. All three celebrated her big 4-0 together with a festive food enrichment activity! Even the giraffes enjoyed some of the birthday treats.
Their stripes and markings are individual to every zebra, just like a fingerprint- Ellen has a memorable white spot just above her eye. Sandy is easy to tell apart from Ellen and Ember because she has a strikingly pronounced quiff- and is often covered in sand!